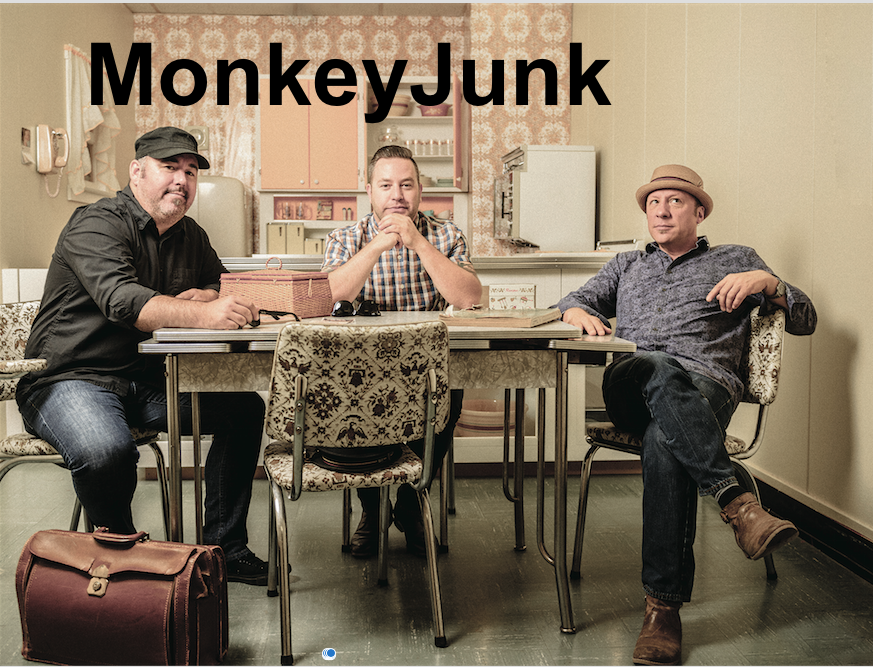 Wednesday Special Blend
Wednesday March 28th, 2018 with Chris White and Trish Bolechowsky
Interview with Sandy Irvin about the April Folkus Concert featuring Kevin Closs, then Tony D about the MonkeyJunk Juno win, then Jerry Leger who plays Irene's on Friday. Plus more! Tune in for the tunes and the times!
A Blue Whale's Lament
Kevin Closs - s/t


https://soundcloud.com/user-877208597/a-blue-whales-lament

Release date: 17 February 2018
Recorded in the Drake Passage on board the M/S Expedition. Recorded at anchor in the Beagle Channel using an iPad Mini and a Shure MV88 microphone.

Wikipedia: The Drake Passage (Spanish: Pasaje de Drake) or Mar de Hoces—Sea of Hoces—is the body of water between South America's Cape Horn and the South Shetland Islands of Antarctica. It connects the southwestern part of the Atlantic Ocean (Scotia Sea) with the southeastern part of the Pacific Ocean and extends into the Southern Ocean.

Kevin has been toiling in the music mines for a long time – he has 11 albums under his belt, has toured as a sideman with Charlie Major, and has played lead guitar in a production of American Idiot: The Green Day Musical. He has a hard rock alter ego in his band the Nobs,who are favourites in Sudbury and Northern Ontario. Left to his own devices, though, he's a singer-songwriter.

kevinclossmusic.com
Invitation 2 Sexual Touching
Kevin Closs - In Deep

from In Deep, released July 10, 2017

https://kevincloss.bandcamp.com/track/invitation-2-sexual-touching


Folkus concerts are a rare chance to see bands up close and hear them as they're meant to be heard. The series is a not-for profit haven for Canadian artists in colder months. Tickets and details at www.folkusalmonte.com
Saturday, April 28th
Kevin Closs with Flying Horses opening
Tickets $30
Doors open at 7:30, show time is 8:00.
The welcome is warm, the beer (local) is cold, it's worth the drive to Almonte!
Ballymeena
Kevin Closs - In Deep

https://kevincloss.bandcamp.com/track/ballymeena
Tölt
Jade Bergeron - s/t

https://fhorses.bandcamp.com/track/t-lt length 05:43

Piano, wurlitzer, celesta, bells, chimes, music boxes - Jade Bergeron
Cello - Raphael Weinroth-Browne

Flying Hórses is an instrumental journey through memories.

http://www.flyinghorses.ca/

released April 1, 2016

Piano, wurlitzer, celesta, bells, chimes, music boxes - Jade Bergeron
Cello - Raphael Weinroth-Browne

The Folkus Concert Series has an intriguing young pianist opening for Kevin. Jade Bergeron , who performs as Flying Hórses, is an ambitious nouveau classical composer. She went to Iceland to work on her last album, Tölt, with Sigur Rós' producer, Biggi Birgisson, at Sundlaugin Studio in Iceland. She recently completed a residency at the Banff Centre, and has spent time in Almonte getting close to the Steinway Grand in the Almonte Old Town Hall (the piano is a whole story in itself – Almonte in Concert, the classical series, fundraised for over 10 years to buy the piano. Having access to it is a great privilege).
Time to Roll
MonkeyJunk - Time to Roll

http://monkeyjunkband.com/

Time to Roll was released Nov. 4, 2017
2018 Juno - Blues Album of the Year

Time To Roll is the fifth album by award-winning Ottawa, Ontario-based blues/rock trio, MonkeyJunk. Time to Roll was recorded at Signal Path Studios in Almonte, Ontario
Comprised of Steve Marriner on vocals, baritone guitar, bass, harmonica and organ; Tony D on lead guitar; and Matt Sobb on drums
Time to Roll was co-produced by Ken Friesen, who also doubles as a co-songwriter. Kelly Prescott, Tom Wilson and Stony Plain label-mate Paul Reddick also lent their songwriting talents to the recording.

April 27th at Batstone's Northern Ramble in Renfrew, its Tony D (solo) and Suzy Vinnick
Here in Ottawa MonkeyJunk celebrating their 10th anniversary as a band and now their Juno award as well at the NAC Studio on Thursday, May 3rd! Get your tickets now! This will sell out.
Undertaker Blues
MonkeyJunk - Time to Roll

See the Sign
MonkeyJunk - Time to Roll

Wrong Desert (Rough mix)
Hundred Pacer - Rare Beauty Rough Mixes


https://hundredpacermusic.bandcamp.com/releases

Rey Sabatin's band, Hundred Pacer with Kosta Mackay on drums, Rob Snasdell-Taylor and Sebatian Beyers
"new wave" roots-rock
first show was at Irene's in Jan. 2017
Forged Check
Jerry Leger - Nonsense And Heartache

https://youtu.be/eWUaXLhfJqU
Published on Aug 1, 2017

Jerry Leger & The Situation + Hundred Pacer at Irene's Pub, 885 Bank St. on Friday, March 30th
https://www.facebook.com/events/381670898965133/

At heart, Canadian singer-songwriter Jerry Leger is driven by a quest to convey in his own manner the purity embedded in the grooves of the vintage rock, country and blues recordings he so dearly loves. This trait attracted support from fellow singer/songwriters like Doug Paisley, Jim Lauderdale, Ron Sexsmith (who has called him "one of the best songwriters I've heard in quite some time")and his staunchest ally, producer and label head Michael Timmins of Cowboy Junkies, who signed Jerry to his label, Latent Recordings in 2013. He has been called "one of Canada's best" by Exclaim! and a "gifted storyteller" by The Toronto Star. His latest release, (the Polaris listed) 'Nonsense and Heartache' is a 2-record set showcasing the two major musical sides of him. The idea was spearheaded by Timmins with 'Nonsense' displaying Leger's rock 'n' roll and bluesy grit while 'Heartache' is a more folk-roots-melodic expression. Employing his distinctive live-off-the-floor recording approach on 'Nonsense And Heartache', Timmins focused on capturing the chemistry between Leger and his incredible long time band: multi-instrumentalist James McKie, bassist Dan Mock and drummer Kyle Sullivan, "The Situation."

Leger's last two albums Early Riser (2014) and the double LP Nonsense and Heartache (2017) were produced by Michael Timmins of Cowboy Junkies and released on their record label, Latent Recordings.
Things Are Changing 'Round Here
Jerry Leger - Nonsense And Heartache

https://youtu.be/JA8-H5_Nk0I
Growing Up and Growing Old (Rough mix)
Hundred Pacer - Rare Beauty Rough Mixes

https://youtu.be/dRpJyap_Lfo

back to the blues
Nothing More
Jennifer Noxon - Sweet

Literate At Last
Jennifer Noxon - Sweet

Tortoise and the Hare
Old Man Luedecke - Tender Is the Night

The Lucky One
Rick Fines and Suzie Vinnick - Nothing Halfway

Cape Breton Silver
Jim Payne and Fergus O'Byrne - Wave Over Wave

Gonna Write Myself a Letter
Steven Palmer - Morning Road

Can't Call You Baby
Monkeyjunk - Time to Roll

Malted Milk
Tony D - The Size of Your Shoes

Jambalaya
Sneezy Waters - Sneezy Waters Sings Hank Williams

The Bottomless Cup
Jennifer Noxon - Watch As You Walk