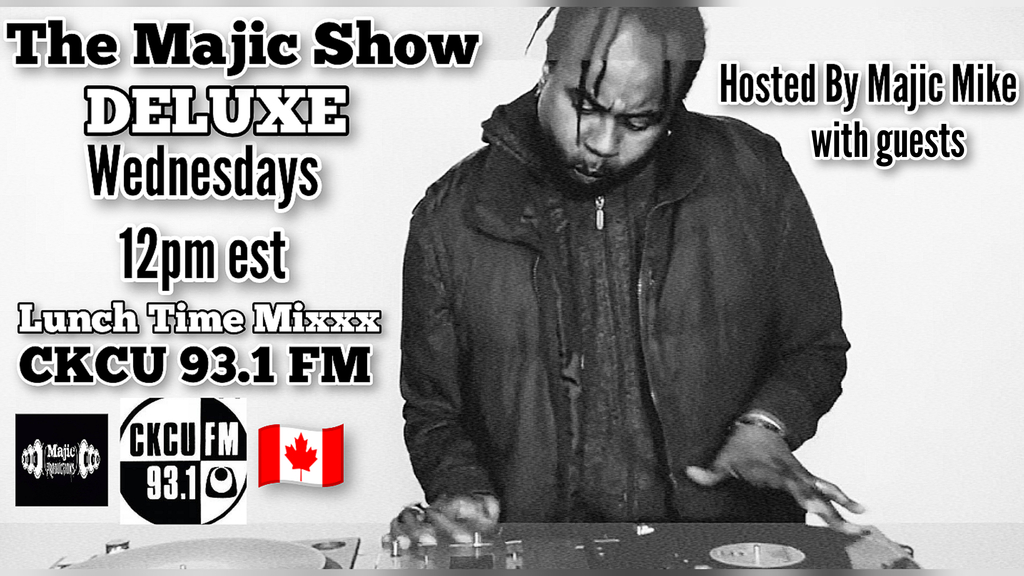 The Majic Show Deluxe
Wednesday March 31st, 2021 with Majic Mike
The Majic Show DELUXE Wed 12pm est hosted by Majic Mike spinning the hottest tracks canadian and worldwide urban music with guests interviews weekly majors or indi retro dj mixes news reports and more tune in.
The Majic Show DELUXE March 31 2021 Wed 12pm est hosted by Majic Mike spins the hottest in urban music local and worldwide guests. Hi guys its the end of the month and I wanna give you a really good show we got Dj Ducats from The Style Wars Show coming spinning some dope hiphop. Also canadian comedian Keesha Brownie and canadian hiphop artist DREW EDGHILL and Majic Mike spinning some new dancehall reggae tracks and more TUNE IN...
It's Coming, It's Here
Es x Pandamonium - Single - indi

All or Nothing
DJ Cosm feat. The Legend Adam Bomb, Merkules, Fortified Mind & Halfcut - Single - Indi

The Realest
Heem feat. Benny The Butcher - Single - Indi
Kool-Aid
Little Vic feat. Vinnie Paz & Billy Danze - Single - Indi
The Game (Its on
Tragedy Khadafi feat. Havoc - Single - Indi
Aviator Game
Checkmate & DJKemo feat. Ras Kass - Single - Indi

Blackberry Molasses
Mista - Mista - EastWest
Girl
Sizzla - Single - Kalonji Records

Cologne
Ding Dong - Single - Indi

Ozone
Tommy Lee Sparta - Single - Indi

No Limit
Moyann and Shenseea - No Limit - Indi

Space Ship
Sean Paul ft Suku Ward - Single - Atlantic

Pretty Girl
Charly Black - Single - Unstoppable Entertainment

Dada
Nykka - Single - Indi

NEVA GROW SO
Itakay - Single - Team Bigga Rankin
Put It On Hard
Vybz Kartel - Single - Adidjahiem Records
Nuff Man A Dead
Super Cat - Don Dada - ‎Sony
Racks
Flaco - Single - Indi


Dont Matter To Me Remix
DREW EDGHILL - Single - Indi

Round & Round We Go
DREW EDGHILL - Single - Indi

All Alone
Bri Cash - Single - Indi