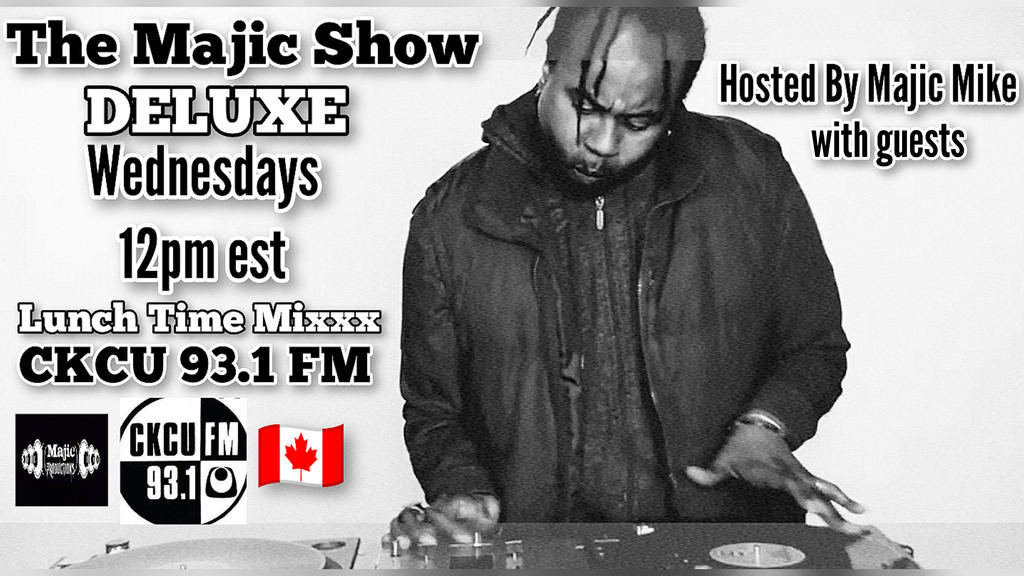 The Majic Show Deluxe
Wednesday March 10th, 2021 with Majic Mike
The Majic Show DELUXE Wed 12pm est hosted by Majic Mike spinning the hottest tracks canadian and worldwide urban music with guests interviews weekly majors or indi retro dj mixes news reports and more tune in.
The Majic Show DELUXE March 10 2021 Wed 12pm est hosted by Majic Mike spins the hottest in urban music local and worldwide guests this week local artist God Bless and from toronto we got Black Orchid also some exclusive tracks in Dj Mix..
EXES & SUMMER FLINGS
JAHKOY & Fabolous - single - Indi


Song About Nothing
Donn ft Judah - single - Indi


Return My Heart
Black Orchid ft. Swisha Sweetz - single - indi


PERFECT
D Chase - single - Indi

Vertebrae (Mr. Erbie Remix)
Dan-e-o - single - Urbnet

Hip Hop 101
Mega Sean - Hiphop 101 - indi

Nutshell Pt 2
Phife Dawg ft Redman & Busta Rhymes - Nutshell Pt. 2 - Smoking Needles/AWAL.

My Shot
Mic Gutz - single - Indi


A Killers Killer
Ynx716 x Conway x Graphwize - single - Indi

Pen Game
U-Nik Stylez - Single - Indi


Sueded Leather
Soviets - single - indi


Bob James
Soviets - single - Indi


No Good to Me
Wais P - single - indi

EverybodyEats
Graphwise-B.A Badd Conway the machine - Single - Indi

Say Your Prayers
BigBob & Solomon Childs ft Shyheim - Single - Indi

1994
God Bless - Single - indi

Big Pharma (Freestyle)
God Bless - Single - Indi