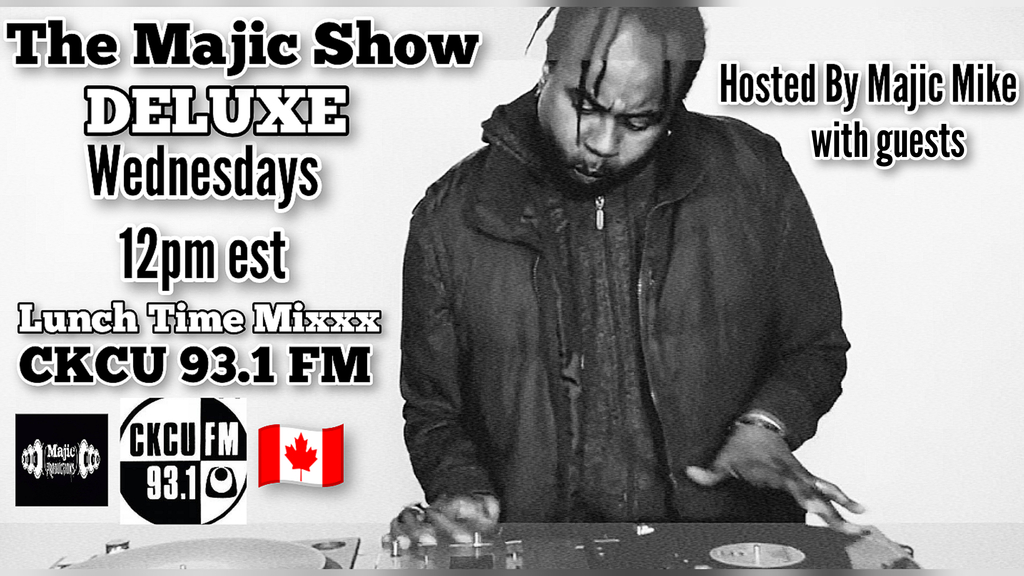 The Majic Show Deluxe
Wednesday February 17th, 2021 with Majic Mike
The Majic Show DELUXE Wed 12pm est hosted by Majic Mike spinning the hottest tracks canadian and worldwide urban music with guests interviews weekly majors or indi retro dj mixes news reports and more tune in.
The Majic Show DELUXE Feb 17 2021 Wed 12pm est hosted by Majic Mike spins the hottest in urban music local and worldwide guests this week we did a new interview with hiphop legend Tragady Khadafi over the phone just for CKCU also Jethro Constant Physiotherapist at Human 2.0 right here in ottawa. And recording artist Disa she works with Encore Canada we have a few singles to spin with a exclusive short online performance. Surprise if you guys like Dj mixes we got guest deejay CKCU own Dj Ducuts from the style wars show joining me on the 1s and 2s grab your lunch and enjoy the show...
Drama
Mestro fresh wes - Digital Single - Fontana North


Aint Hard 2 Find
2Pac Feat BLegit Richie Rich DShot CBo E40 - All Eyes On Me - Interscope/Death Row
I Get Around
2 Pac - Strictly 4 My N.I.G.G.A.Z. - Interscope
Without You
7 G.E.M.S. (Tragic Allies & Tragedy Khadafi) - Digital Single - Indi
1994
G.B. (God Bless) - Digital Single - Handz On Records


Street Caviar
Nine Planets - DL and Essanh - 12", Single - Nine Planet Recordings

Hood
Tragedy Khadafi Christ Castro - 12" Single - Solid Records
Kissin the Curb
Jake One feat. Bishop Lamont & Busta Rhymes - Digital Single - White Van Music

It's Coming, It's Here
Es x Pandamonium - The Connected EP - Indi

Foul Opus
Tragedy Khadafi Ft Foul Monday - Hidden Files - Indi
The Illest
BigBob, Ski ft Grandma Queen - Digital Single - Indi


Take A Step
Billy Danze - Digital Single - Indi

Every body Eats
Graphwise-B.A Badd X Conway the machine - Digital Single - Indi


Gnotes
Mic Gutz - Digital Single - Indi


Dilla Drums
Dres feat Chuck D - Digital Single - Indi

Shimmy_Shimmy_Ya
Ol Dirty Bastard - Return to the 36 Chambers: The Dirty Version - Elektra
Blazing Hot
Nice & Smooth - Blazing Hot - BMG Records
Mass_Appeal
Gang Starr - Hard to Earn - EMI Records
Breakadawn
De La Soul - Buhloone Mindstate - Tommy Boy
cha cha
Flipmod Squad - Flipmode Squad - Elektra
BE WHO YOU ARE
DISA - Digital Single - Indi


pull-the-string
lord-downey - Digital Single - Indi