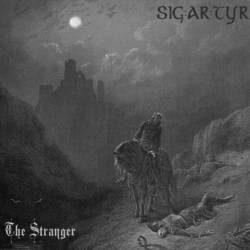 eV's Underground
Tuesday May 12th, 2015 with e.V., Queen of Doom
Farewell McCurdy Board! featuring SIG
Next week we will be on using the new digital Wheatstone board. This is the last hurrah for the very awesome but very old and somewhat decrepit analogue McCurdy board. Hour 2, the 1st + 2nd singles from Finnish goth metal mavens To/Die/For, off their coming album, Cult, due to drop next month! Plus some tracks from Croatian female fronted metal band. AngelSeed. Hour 3, Danish hard rock phenomenon Forever Still and their new EP "Save Me". followed by A.S. Swanski's latest effort, "Zafari". Hour 4, 1 new track each from UK doom metal band My Silent Wake and UK doom pioneers, Paradise Lost Hour 5, 'The Stranger', the debut album from SIG:AR:TYR, Canada's finest Dark Ambient/Acoustic/Folk Metal act.
Sweet Pandemonium
HIM - Love Metal
(The Day After) The Farmer Died
Muffler Crunch - Little Things

Kiss My Ashes (Goodbye)
Woods Of Ypres - Grey Skies & Electric Light

Wicked Game
HIM - Greatest Love Songs, Volume 666
Embraced By Darkness
Saturnus - Veronika Decids To Die
An Olden Tale
Vesperia - An Olden Tale

Chasing Unicorns
Fusskalt - Overdrive

Screaming Birds
To/Die/For - Cult

In Black
To/Die/For - Cult

Voodoo Voodoo
Venus Fly Trap - Cage 22

Organ Donor
Anne Hogan + Martin Bowes - Cage 22

Saint Lucy
A.S. Swanski - Deckare
No One There
Sentenced - The Cold White Light
Dancing With The Ghosts
Angel Seed - demo

Leaving All Behind
Angel Seed - demo

Fallen Angel
Angel Seed - demo

The Perfect Cult
Deathstars - The Perfect Cult
White Wedding
Deathstars - Single
Awake The Fire
Forever Still - Save Me (EP)

Breathe In
Forever Still - Save Me (EP)

Save Me
Forever Still - Save Me (EP)

Safari
A.S. Swanski - Zafari
Traum
A.S. Swanski - Zafari
Hartland
A.S. Swanski - Zafari
Rauschwetter
A.S. Swanski - Zafari
WW
A.S. Swanski - Zafari
Innan
A.S. Swanski - Zafari
Futura
A.S. Swanski - Zafari
1 July
A.S. Swanski - Zafari
Three Furies
My Silent Wake - single
And so it Comes to an End
My Silent Wake - Damnatio Memoriae

Beneath Broken Earth
Paradise Lost - The Plague WIthin

No Hope In SIght
Paradise Lost - The Plague WIthin

Your Sweet Six Six Six
HIM - Greatest Lovesongs Volume 666
The Funeral Of Hearts
HIM - Love Metal
Within
Elderoth - Mystic


Black and Blue
Elderoth - Mystic


This Shadow By My Side
Elderoth - Mystic


Huntress
Vesperia - An Olden Tale

Generation Zero
King Swan - King Swan

At The Gates
SIG:AR:TYR - The Stranger - Morbid Winter Records

The Stranger
SIG:AR:TYR - The Stranger - Morbid Winter Records

Against The Grail
SIG:AR:TYR - The Stranger - Morbid Winter Records

Orion Awaits
SIG:AR:TYR - The Stranger - Morbid Winter Records

Tears For Baldur
SIG:AR:TYR - The Stranger - Morbid Winter Records

Beyond The Dying Sun
SIG:AR:TYR - The Stranger - Morbid Winter Records

Resurection
HIM - Razorblade Romance