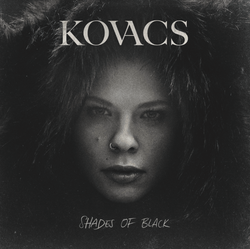 eV's Underground
Tuesday April 28th, 2015 with e.V., Queen of Doom
Elderoth / Encephalon / Kovacs
Split between Hours 1 & 5, Elderoth - prog/power metal monsters out of Montreal. Hour 2: Industrial powerhouse Encephalon have launched their new album Psychogenesis into listening space. Hear it here. Hour 3: Something very special from Lady Death this week! Dutch songstress Kovacs has unleashed her debut album, Shades of Black""- and, like her amazing and powerful voice, it's a real tour de force!
Buried Alive By Love
HIM - Love Metal
Demon Of The Northern Seas
Edge Of Attack - Edge Of Attack

Call Of The Raven Moon
Saturnus - Saturn In Ascension
Within
Elderoth - Mystic


Black and Blue
Elderoth - Mystic


This Shadow By My Side
Elderoth - Mystic


My Future
Elderoth - Mystic


Angel Fell
LEAH - Kings & Queens


Enter The Highlands
LEAH - Kings & Queens


The Adept
Forgotten Horror - Aeon Of The Shadow Goddess - Woodcut Records

Psychogenesis Zero
Encephalon - Psychogenesis - Artoffact


Desertopolis
Encephalon - Psychogenesis - Artoffact


Illuminate
Encephalon - Psychogenesis - Artoffact


Outbreaker
Encephalon - Psychogenesis - Artoffact


Starscorch
Encephalon - Psychogenesis - Artoffact


Genomica
Encephalon - Psychogenesis - Artoffact


Only Biological
Encephalon - Psychogenesis - Artoffact


Ultimate Breed
Encephalon - Psychogenesis - Artoffact

Malkuth
Encephalon - Psychogenesis - Artoffact


Ecophagy
Encephalon - Psychogenesis - Artoffact


The Descent
Encephalon - Psychogenesis - Artoffact


Atom and Eve
Encephalon - Psychogenesis - Artoffact


50 Shades Of Black
Kovacs - Shades Of Black

My Love
Kovacs - Shades Of Black

The Devil You Know
Kovacs - Shades Of Black

Night Of The Nights
Kovacs - Shades Of Black

Wolf In Cheap Clothes
Kovacs - Shades Of Black

Shirley (Sound Of The Underground)
Kovacs - Shades Of Black

He Talks That Shit
Kovacs - Shades Of Black

Diggin
Kovacs - Shades Of Black

Fool Like You
Kovacs - Shades Of Black

When The Lady's Hurt
Kovacs - Shades Of Black

Whiskey And Fun
Kovacs - Shades Of Black

Song For Joel
Kovacs - Shades Of Black

Shadowmaker
Apocalyptica - Shadowmaker

Stolpe
Eyemouth - Black and Blue Lattitudes

Cold Blood
Apocalyptica - Shadowmaker

Sweet Pandemonium
HIM - Love Metal
High On The Music
Sixx:A.M. - Modern Vintage
Miracle
Sixx:A.M. - Modern Vintage
Before It's Over
Sixx:A.M. - Modern Vintage
Life Is Beautiful
Sixx:A.M. - The Heroin Diaries Soundtrack
Through the Orchard
Viathyn - The Peregrine Way
Fields Of Sunrise
Yossi Sassi - Melting Clocks
Praying Mantis
Leona's Sister - single


Juggernaut
Stever - Idiot Savant


Juliet (You're Mine)
Beauty In The Suffering - single

Remnant
LEAH - Kings & Queens


There Is No Farewell
LEAH - Kings & Queens

Falling Star
Elderoth - Mystic


In A Dream
Elderoth - Mystic


The Ocean
Elderoth - Mystic


Far In The Sea
Elderoth - Mystic


Always Remember
Elderoth - Mystic


So Pretty
Saali & The Ravenhearts - demo


Real Time
Trainwreck - Big Smoke Saloon

Wild Girl
Hannu Lepisto - Run Away With Me
Once Upon A Time
Ravenzheart - Once Upon A Time
Atiiguuq
Saali & The Ravenhearts - demo