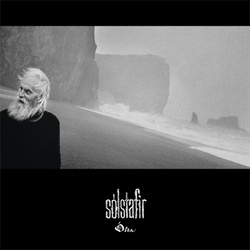 eV's Underground
Tuesday March 10th, 2015 with e.V., Queen of Doom
Bleeding Tears / Sólstafir
Hr. 1: Brand new single from Ottawa's A Darker Day. Hr. 2: Bleeding Tears (Valencia, Venezuela; Goth/Doom Metal) Hr. 3: Ótta, Iceland's Sólstafir's latest LP (atmospheric black metal/post-rock). Hr. 4: ReverbNation Band of the Week, UK indie rockers: FlashFires Hour 5: New song from Quebec's Serge Fiori (ex-Harmonium). Plus 2 epic tracks from Harmonium's Si On Avait Besoin d'une Cinquième Saison.
Keeper Of The Ledger
Woods of Ypres - Grey Skies & Electric Light

Voice Of The Sword
Scythia - ... of Exile

Dead Lover's Lane
HIM - Venus Doom
The Venus and The Moon
Sorrows Path - Doom Philosophy
The Mistress
Matthew Meadows - Etherati
Serpent Ride
HIM - This Is Only The Beginning
Brother
Orphaned Land - All Is One
Darkness Encroaching
White Empress - Rise Of The Empress
Sweet Release
A Darker Day - Single


Sweet 16
Azriel St. Michael - Positive Hostility

Intro
Bleeding Tears - Brother Wolf

Hunter's Moon
Bleeding Tears - Brother Wolf
Lost In Darkness
Bleeding Tears - Brother Wolf
Distant Bodies
Bleeding Tears - Brother Wolf
Prelude Into The Fear
Bleeding Tears - Brother Wolf

Interlude
Bleeding Tears - Brother Wolf
Brother Wolf
Bleeding Tears - Brother Wolf
Agony
Bleeding Tears - Brother Wolf
Reincarnation
Bleeding Tears - Brother Wolf

Cyanide Sun
HIM - Venus Doom
For Your Demons
Saturnus - For The Loveless Lonely Nights
Lágnætti
Sólstafir - Ótta - Season of Mist

Ótta
Sólstafir - Ótta - Season of Mist
Rismál
Sólstafir - Ótta - Season of Mist
Dagmál
Sólstafir - Ótta - Season of Mist
Miðdegi
Sólstafir - Ótta - Season of Mist

Nón
Sólstafir - Ótta - Season of Mist
Miðaftann
Sólstafir - Ótta - Season of Mist
Náttmál
Sólstafir - Ótta - Season of Mist
ManShark
FlashFires - Single
Shy
FlashFires - Play - Angry Badger Records

Tránsito de Venus
La Sonata Matraka - Falta de Gravedad
Ya no hay gravedad
La Sonata Matraka - Falta de Gravedad
Tránsito del Sol
La Sonata Matraka - Falta de Gravedad
Voodoo Mon Amour
Diablo Swing Orchestra - Pandora's Pinata
Ainda Não Acabou
Huaska (feat. Eumir Deodato) - single
Cruel Water
Lunar Twin - Lunar Twin EP

You Are Here With Me (Instrumental)
Musk Ox - single


Tears For Baldur
SIG:AR:TYR - The Stranger

Infekt Swarm Nine
Greylights - Tarpeia's Descent

Bats
Patron Saint of Plagues - single

Teddy Scare Picnic
Patron Saint of Plagues - single

Invader Zim
Patron Saint of Plagues - single

Jamais
Serge Fiori - Serge Fiori


Le Monde Est Virtual
Serge Fiori - Serge Fiori

Histoire sans paroles
Harmonium - Si On Avait Besoin d'une Cinquième Saison

Depuis l'automne
Harmonium - Si On Avait Besoin d'une Cinquième Saison

Homebound
Hannu Lepisto - Have A Beautiful Life
Have A Beautiful Life
Hannu Lepisto - Have A Beautiful Life