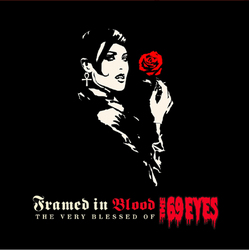 eV's Underground
Tuesday February 24th, 2015 with e.V., Queen of Doom
The 69 Eyes (Happy Belated Birthday, Bazie!) / Dani Arrow
Hour 3: We overdose on The 69 Eyes with their best of album "Framed In Blood - The Very Blessed of The 69 Eyes". A very happy belated birthday to their lead guitarist Pasi Jaaskelainen a.k.a. Bazie! This week's Reverbnation band of the week is HellHikers, from Norway. Dani Arrow is a singer-songwriter from Germany.
Sigillum Diaboli
HIM - Uneasy Listening, Volume 2
Locust Swarm
Falconer - Black Moon Rising
Shadows In Our Wake
Viathyn - Cynosure

Norra El Norra
ORPHANED LAND - Mabool
Halls And Chambers
Falconer - Black Moon Rising
Midwinter Sacrifice
SIG:AR:TYR - Godsaga

Allure Of The Earth
Woods Of Ypres - Pursuit Of The Sun ; Allure Of The Sun

Winter's End
Xanthochroid - Blessed He With Boils
Softly On The Path You Fade
Saturnus - Martyre
Samba de Preto
Huaska (feat. Elza Soares) - Samba de Preto
Cold Seed
Tiamat - Deeper Kind of Slumber
Sagan
Nightwish - Elan (single)

The Heartless
HIM - 666 Ways To Love (EP) - The End Records

Crawling
ATTRITION - This Death House

Grey Lights
Cabaret Lights - Stirring
Thin Red Line
ATTRITION - a tricky business
Impossible To Ignore
Glass Apple Bonzai - Glass Apple Bonzai

Lies
Jaani Peuhu - Echo Chamber

Diamonds
Steam-Powered Giraffe - single
Borderline
The 69 Eyes - X
Brandon Lee
The 69 Eyes - Framed In Blood - The Very Blessed of The 69 Eyes
Dance d'Amour
The 69 Eyes - Framed In Blood - The Very Blessed of The 69 Eyes
Gothic Girl
The 69 Eyes - Framed In Blood - The Very Blessed of The 69 Eyes
Wasting the Dawn
The 69 Eyes - Framed In Blood - The Very Blessed of The 69 Eyes
Crashing High
The 69 Eyes - Framed In Blood - The Very Blessed of The 69 Eyes
The Chair
The 69 Eyes - Framed In Blood - The Very Blessed of The 69 Eyes
Velvet Touch
The 69 Eyes - Framed In Blood - The Very Blessed of The 69 Eyes
Call Me
The 69 Eyes - Framed In Blood - The Very Blessed of The 69 Eyes
Stolen Season
The 69 Eyes - Framed In Blood - The Very Blessed of The 69 Eyes
Betty Blue
The 69 Eyes - Framed In Blood - The Very Blessed of The 69 Eyes
Wrap Your Troubles In Dreams
The 69 Eyes - Framed In Blood - The Very Blessed of The 69 Eyes
Framed In Blood
The 69 Eyes - Framed In Blood - The Very Blessed of The 69 Eyes
Tang
The 69 Eyes - Framed In Blood - The Very Blessed of The 69 Eyes
Too Much To Lose
The 69 Eyes - Framed In Blood - The Very Blessed of The 69 Eyes
Still Waters Run Deep
The 69 Eyes - Framed In Blood - The Very Blessed of The 69 Eyes
Ghettoway Car
The 69 Eyes - Framed In Blood - The Very Blessed of The 69 Eyes
Lay Down Your Arms, Girl
The 69 Eyes - Framed In Blood - The Very Blessed of The 69 Eyes
Babysitter
The 69 Eyes - Framed In Blood - The Very Blessed of The 69 Eyes
Tongue Devil
HellHikers - demo

Mistress Demona
HellHikers - demo
Hell Is Where The Heart Is
HellHikers - demo

Sleepless in Ghoulham
HellHikers - demo
Without You
Jezebels Kiss / Azriel St. Michael - Positive Hostility

No Disguise
Pole Position - EP 1

Don't Follow
Furyon - Gravitas
These Four Walls
Furyon - Lost Salvation

Shadows And Lights
Dani Arrow - Boneyard

Summer's Gone
Dani Arrow - Boneyard
Some Hearts
Dani Arrow - Boneyard
Rapunzel
Dani Arrow - Boneyard

Boneyard
Dani Arrow - Boneyard
The Red Chair
Rick Parnell - Imperfect Beauty

She's The Wind
Rick Parnell - Imperfect Beauty

Desire
Rick Parnell - Imperfect Beauty

16 Days Of Rainfall
Rick Parnell - Imperfect Beauty

Let Your Criminal Come Out
Sebastian Jauregui - single
Neon Lights
SEBASTIAN JAUREGUI Feat SEBASTIAN LAZARINO) - single
Venus (In Our Blood)
HIM - Dark Light (deluxe version)