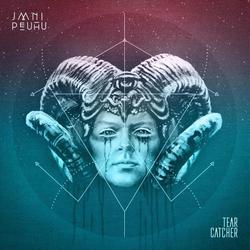 eV's Underground
Tuesday January 20th, 2015 with e.V., Queen of Doom
Mixed Doom / Glenn Love / Nathaniel Johnstone / Marilyn Manson / Jaani Peuhu
A fair bit of doom for you in the 1st hour: Tracks from Fuck The Facts' side project, Merdarahta & their brand new EP "As The Dark Clouds Swept Away We Could See The Sunset". local doomsters Loviatar, From Greece, Sorrows Path. In hour 2, Glenn Love's dark electro EP (R​)​Age Electric. Then selections from Nathaniel Johnstone's album, "The Antikythera Mechanism", a blend of European, Middle Eastern, and South American music with Jazz, Rock, Surf, Folk, Gothic, and Steampunk influences. After last week's Pale Emperor debacle Lady Death has ridden to the rescue - in hour 3 we proudly present this gothic goodness from the one and only Marilyn Manson. In hour 4 a new single from Yossi Sassi,ex Orphaned Land; "Kill Ritual" will be this week's Reverbnation band of the week. Hour 5: Jaani Peuhu's brand new album, Tear Catcher - we have the North American sneak preview! It drops this Friday.
Long Lost Longing
Severnica - Long Lost Longing
The Kiss Of Dawn
HIM - XX: Two Decades of Love Metal
Diva Trioformis
Loviatar - Diva's Hymn


Apostate (Hymn Of The Heretic)
Loviatar - Diva's Hymn


Everything Can Change
Sorrows Path - Doom Philosophy
The Northern Cold
Woods Of Ypres - Woods III: Deepest Roots & Darkest Blues

The Dark Clouds
Merdarata - As The Dark Clouds Swept Away We Could See The Sunset


Wounded
Merdarata - As The Dark Clouds Swept Away We Could See The Sunset

Illusion
Merdarata - As The Dark Clouds Swept Away We Could See The Sunset


At My Door
Glenn Love - (R)Age Electric
(R)Age Electric
Glenn Love - (R)Age Electric
Dive
Glenn Love - (R)Age Electric
The City Cries
Glenn Love - (R)Age Electric
Flight of the Ikarus
Nathaniel Johnstone - The Antikythera Mechanism
Lacrimosa Aphrodite
Nathaniel Johnstone - The Antikythera Mechanism
Flyover Country
Nathaniel Johnstone - The Antikythera Mechanism
Dance With Me
Nathaniel Johnstone - The Antikythera Mechanism
Snuggle fish
Nathaniel Johnstone - The Antikythera Mechanism
Steam (Prometheus)
Nathaniel Johnstone - The Antikythera Mechanism

Killing Strangers
Marilyn Manson - The Pale Emperor

Deep Six
Marilyn Manson - The Pale Emperor
Third Day Of A Seven Day Binge
Marilyn Manson - The Pale Emperor
The Mephistopheles Of Los Angeles
Marilyn Manson - The Pale Emperor
Warship My Wreck
Marilyn Manson - The Pale Emperor
Slave Only Dreams To Be King
Marilyn Manson - The Pale Emperor
The Devil Beneath My Feet
Marilyn Manson - The Pale Emperor
Birds Of Hell Awaiting
Marilyn Manson - The Pale Emperor
Cupid Carries A Gun
Marilyn Manson - The Pale Emperor

Odds Of Even
Marilyn Manson - The Pale Emperor
Day 3
Marilyn Manson - The Pale Emperor
Fated, Faithful, Fatal
Marilyn Manson - The Pale Emperor
Fall Of The House Of Death
Marilyn Manson - The Pale Emperor
The Eyes Of Medusa
Kill Ritual - Drop Dead Gorgeous

The Ssrpentine Ritual
Kill Ritual - Drop Dead Gorgeous
Once
Yossi Sassi & Michael Kobrin - single

Cicada
Monobrow - Big Sky, Black Horse


These Mountains Don't Want Us Here
Monobrow - Big Sky, Black Horse


Lifelines
Jaani Peuhu - Tear Catcher

Tear Catcher
Jaani Peuhu - Tear Catcher

My Sky
Jaani Peuhu - Tear Catcher

I Believed
Jaani Peuhu - Tear Catcher

Unspoken Loss
Jaani Peuhu - Tear Catcher

Mercy Kiss
Jaani Peuhu - Tear Catcher

Maybe God Is Asleep
Jaani Peuhu - Tear Catcher

Follow Me
Jaani Peuhu - Tear Catcher

No Regrets
Jaani Peuhu - Tear Catcher

Did You Ever
Jaani Peuhu - Tear Catcher

Desire
Jaani Peuhu - Tear Catcher