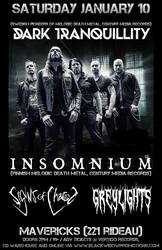 eV's Underground
Tuesday January 6th, 2015 with e.V., Queen of Doom
Dark Tranquility / Insomnium / HIM / Atttrition / The Lyre Ensemble & Stef Conner / Vesperia
Yesterday was Lady Death's Birthday, so we are "dead"icating this show to her. :-) Hour 1: In honour of their show this Saturday at Mavericks, we spin some excellent melodic death metal: from Gothenberg, Sweden, Dark Tranquillity and from Joensuu, Finland, Insomnium! Hour 2: 1998 HIM rarity: The demo for Razorblade Romance, which the band jokingly nicknamed 'Slippery When Dead'. Hour 3: Darkwave masters Attrition "In Dark Dreams: 1980-2015" The Lyre Ensemble & Stef Conner/Andy Lowings bring some ancient Sumerian music to life, with their album "The Flood". Hour 4: Jaani Peuhu's EP "Echo Chamber Hour 5: Vesperia's LP "An Olden Tale"
A very happy birthday to Our Dearest Lady Death - and many more! This show is for you! \w/ <3
Stigmata Diaboli
HIM - 666 Ways to Love Prologue (EP) - The End Records

For Broken Words
Dark Tranquillity - Construct - Century Media
The Science of Noise
Dark Tranquillity - Construct - Century Media
Uniformity
Dark Tranquillity - Construct - Century Media
The Silence In Between
Dark Tranquillity - Construct - Century Media
Apathetic
Dark Tranquillity - Construct - Century Media
What Only You Know
Dark Tranquillity - Construct - Century Media
The Primeval Dark
Insomnium - Shadows Of The Dying Sun - Century Media
While We Sleep
Insomnium - Shadows Of The Dying Sun - Century Media
The River
Insomnium - Shadows Of The Dying Sun - Century Media
Ephemeral
Insomnium - Shadows Of The Dying Sun - Century Media
The Promethean Song
Insomnium - Shadows Of The Dying Sun - Century Media
Shadows Of The Dying Sun
Insomnium - Shadows Of The Dying Sun - Century Media
Poison Girl
HIM - Slippery When Dead (Razorblade Romance demo)
Resurrection
HIM - Slippery When Dead (Razorblade Romance demo)
Gone With The Sin
HIM - Slippery When Dead (Razorblade Romance demo)
Bury Me Deep In Your Heart
HIM - Slippery When Dead (Razorblade Romance demo)
Join Me In Death
HIM - Slippery When Dead (Razorblade Romance demo)
Right Here In My Arms
HIM - Slippery When Dead (Razorblade Romance demo)
Razorblade Kiss
HIM - Slippery When Dead (Razorblade Romance demo)
Too Happy To Be Alive
HIM - Slippery When Dead (Razorblade Romance demo)
Dreamsleep
Attrition - In Dark Dreams: 1980-2015

Shrinkwrap
Attrition - In Dark Dreams: 1980-2015
Monkey in a bin (1986 reworking)
Attrition - In Dark Dreams: 1980-2015
Fusilade III
Attrition - In Dark Dreams: 1980-2015

Fate is smiling
Attrition - In Dark Dreams: 1980-2015
The Illuminator
Attrition - In Dark Dreams: 1980-2015
The Bone Factory
Attrition - In Dark Dreams: 1980-2015

Mutation
Attrition - In Dark Dreams: 1980-2015
Invocation V
Attrition - In Dark Dreams: 1980-2015
The Flood
The Lyre Ensemble & Stef Conner/Andy Lowings - The Flood

Ishtar's Descent
The Lyre Ensemble & Stef Conner/Andy Lowings - The Flood
Lullaby
The Lyre Ensemble & Stef Conner/Andy Lowings - The Flood

Dumuzid's Dream
The Lyre Ensemble & Stef Conner/Andy Lowings - The Flood
Hicaz Hümayun Saz Semaisi
Ihtimanska - Ihtimanska

Snoshti Ce Vurnah Ctara le Male
Ihtimanska - Ihtimanska

Bourgasko Horo
Ihtimanska - Ihtimanska

A Perfect Day Elise
Jaani Peuhu - Echo Chamber

Little Lies
Jaani Peuhu - Echo Chamber
Wide Open Space
Jaani Peuhu - Echo Chamber

You Only DIsappear
Jaani Peuhu - Echo Chamber
Infekt Swarm Nine
Greylights - Tarpeia's Descent

Oracle's Whisper
Greylights - Tarpeia's Descent

No Guilt
Signs of Chaos - demo


Endtime Hearts
Dark Tranquillity - Construct - Century Media
Revelation
Insomnium - Shadows Of The Dying Sun - Century Media
1000 Years Ago
Vesperia - An Olden Tale

With Omens Of Sorrow
Vesperia - An Olden Tale

The Swordsman
Vesperia - An Olden Tale

Forsaken Shores
Vesperia - An Olden Tale

Huntress
Vesperia - An Olden Tale

To Times End We Ride
Vesperia - An Olden Tale

Bring Me Triumph
Vesperia - An Olden Tale

The Heartless
HIM - 666 Ways To Love Prologue (EP) - The End Records