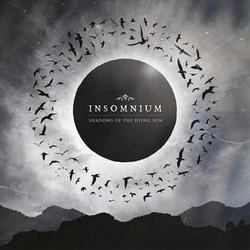 eV's Underground
Tuesday November 4th, 2014 with e.V., Queen of Doom
Funding Drive 2014 (Week 2): Insomnium
RIP Wayne Static (Static-X) & Jacob Crocker (HuriK) \w/ Hour 3: Melodic Death Metal from Finland: Insomnium - and their album "Shadows Of The Dying Sun"
Pretending (Cosmicpope Jam Version)
HIM - Uneasy Listening (Volume 2)
Get Me A Beer
Protokult - No Beer In Heaven


Albedo
Viathyn - Cynosure


This next track from Dying Fetus goes out to Jacob Crocker aka Korpse, vocalist with HuriK, RIP Jacob.
Devout Atrocity
Dying Fetus - Reign Supreme (Deluxe Edition)
Hosting Of The Sidhe
Primordial - Storm Before Calm
RIP Wayne Static with Static-X. Spinning some Static-X for Lady Death and DieTrich Thrall, in Wayne's honour.
Black And White
Static-X - Machine
Dirthouse
Static-X - Start A War
Seal Of Metatron
New Jacobin Club - Soldiers Of The Mark
Return To Eden
New Jacobin Club - Soldiers Of The Mark
Eukalyptustreet
Solefald - Norrøn Livskunst
The Quick and the Damned
Double Eyelid - Seven Years

Pity The Man
Abney Park - single

The Name of Blasphemy
Frostbite - Everything That i Crave
It's All Over
Insane Clown Posse - Bang Pow Boom'
Where's God
Insane Clown Posse - The Mighty Death Pop!
The Primeval Dark
Insomnium - Shadows Of The Dying Sun
While We Sleep
Insomnium - Shadows Of The Dying Sun
Revelation
Insomnium - Shadows Of The Dying Sun
Black heart rebellion
Insomnium - Shadows Of The Dying Sun
Lose To Night
Insomnium - Shadows Of The Dying Sun
Collapsing Words
Insomnium - Shadows Of The Dying Sun
The River
Insomnium - Shadows Of The Dying Sun
Ephemeral
Insomnium - Shadows Of The Dying Sun
The Promethean Song
Insomnium - Shadows Of The Dying Sun
Shadows Of The Dying Sun
Insomnium - Shadows Of The Dying Sun
The Primeval Dark
Insomnium - Shadows Of The Dying Sun
Love Who Loves You Back
Tokio Hotel - single

Wicked Game (Live in Turku)
HIM - Uneasy Listening (Volume 2)
Song Til Stormen
Solefald - Norrøn Livskunst
Tittentattenteksti
Solefald - Norrøn Livskunst
Durch Den Monsun
Tokio Hotel - single
Counting Stars
Delica-m - Hyperstimulus

Lusifer (radio edit)
Teho Majamäki (feat. Ville Valo) - single - Exogenic Music Group

Sexy Machinery
Down In Ashes - Sexy Machinery

Dance For Me
Torn Beloved - Torn Beloved

Black Lily
Gazpacho - Marrch Of Ghosts
Fleur de Lis
Jucifer - L'Autrichienne
Black Mountain Road
Arborea - Arborea
Phantasmagoria In Two
Arborea - Arborea
The Wrecking Ball Company
Marissa Nadler - The Sister
Bei Mir Bist Du Sheyn
The Debaucherauntes - Nakht in Skylarken

Yi'hyu L'Ratzon
The Debaucherauntes - Nakht in Skylarken

Silver
Woods Of Ypres - Grey Skies and Electric Light

track 2 (The Coachman)
Viathyn - Cynosure