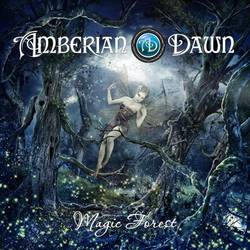 eV's Underground
Tuesday July 8th, 2014 with e.V. Queen of Doom
Amberian Dawn / Tarja Turinen / MONUMENTS / Double Eyelid
All together too much HIM, interspersed between a ton of new music from Amberian Dawn (Finland), Tarja (Finland), MONUMENTS (UK), Double Eyelid (CANADA). Plus new music from Sinead O'Connor.
Silver
Woods Of Ypres - Grey Skies & Electric Light - Earache Records

The Mishapen Steed
Agalloch - Pale Folklore - The End Records
Buried Alive By Love (Live at Finnvox Studios)
HIM - Tears On Tape - Double Cross
Kiss of Dawn (Live at Finnvox Studios)
HIM - Tears On Tape - Double Cross
Cherish My Memory
Amberian Dawn - Magic Forest - Napalm Records

Dance Of Life
Amberian Dawn - Magic Forest - Napalm Records
Agonizing Night
Amberian Dawn - Magic Forest - Napalm Records
Warning
Amberian Dawn - Magic Forest - Napalm Records
Son Of Rainbow
Amberian Dawn - Magic Forest - Napalm Records

I'm Still Here
Amberian Dawn - Magic Forest - Napalm Records
Memorial
Amberian Dawn - Magic Forest - Napalm Records
Endless Silence
Amberian Dawn - Magic Forest - Napalm Records
Green-Eyed
Amberian Dawn - Magic Forest - Napalm Records

Funeral Of Hearts
HIM - Love Metal - BMG/RCA
Beyond Redemption
HIM - Love Metal - BMG/RCA
Sweet Pandemonium
HIM - Love Metal - BMG/RCA
Victim Of Ritual (demo)
Tarja Turinen - Left In The Dark (LP) - earMUSIC

Lucid Dreamer (Demo)
Tarja Turinen - Left In The Dark (LP) - earMUSIC
Never Enough (Demo Progression)
Tarja Turinen - Left In The Dark (LP) - earMUSIC
Mystique Voyage
Tarja Turinen - Left In The Dark (LP) - earMUSIC
Into The Sun (studio version)
Tarja Turinen - Left In The Dark (LP) - earMUSIC

Neverlight (Full Orchestra Version)
Tarja Turinen - Left In The Dark (LP) - earMUSIC
The Sacrament
HIM - Love Metal - BMG/RCA
This Fortress Of Tears
HIM - Love Metal - BMG/RCA
Circle Of Fear
HIM - Love Metal - BMG/RCA
I, The Creator
MONUMENTS - The Amanuensis - Century Media

Origin
MONUMENTS - The Amanuensis - Century Media
Atlas
MONUMENTS - The Amanuensis - Century Media
Horclux
MONUMENTS - The Amanuensis - Century Media
Garden of Sankhara
MONUMENTS - The Amanuensis - Century Media
The Alchemist
MONUMENTS - The Amanuensis - Century Media

Quasimodo
MONUMENTS - The Amanuensis - Century Media
Saga CIty
MONUMENTS - The Amanuensis - Century Media
Jinn
MONUMENTS - The Amanuensis - Century Media
I, The Destroyer
MONUMENTS - The Amanuensis - Century Media
Samsara
MONUMENTS - The Amanuensis
Medusa (Tarja Solo Version)
Tarja Turinen - Left In The Dark (LP) - earMUSIC

Keeper Of The Ledger
Woods Of Ypres - Grey Skies & Electric Light - Earache Records

Black Box
Double Eyelid - Seven Years


Diamond Cutter
Double Eyelid - Seven Years

She's Falling
Double Eyelid - Seven Years

John
Double Eyelid - Seven Years

Dead Is Better
Double Eyelid - Seven Years

The Hanged Woman
Double Eyelid - Seven Years


The Quick and the Damned
Double Eyelid - Seven Years

Dirty Weather
Double Eyelid - Seven Years

The Stranger
Double Eyelid - Seven Years

He Fell
Double Eyelid - Seven Years


Want
Megan Jerome - Megan Jerome

Esquestrienne
Megan Jerome - Megan Jerome

Canyon
Megan Jerome - Megan Jerome

Dance
Megan Jerome - Megan Jerome

Old Lady
Sinead O'Connor - I'm Not Bossy, I'm The Boss

Take Me To The Church
Sinead O'Connor - single
Buried Alive By Love
HIM - Love Metal