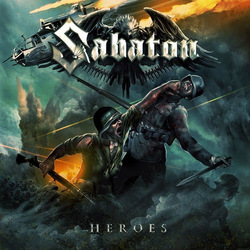 eV's Underground
Tuesday May 27th, 2014 with e.V., Queen of Doom
Sabaton / Psychotic Gardening / Nightwish / Ivory Hours / Woods Of Ypres
Swedish Power metal giants Sabaton, pioneers in historical metal are featured starting in hour 1! Read more about the tracks here:
http://en.wikipedia.org/wiki/Heroes_(Sabaton_album)
Hour 2: Ferocious blackened death-doom out of Winnipeg, from Psychotic Gardening, via their new album "Hymnosis". Hour 3: Nightwish's live album "Made In Hong Kong - and various other places" Hour 4: Reverbnation Artist of the week is Wayne Extremity and his project "White Spade" - alternative/grunge from Dubai, UAE Helsinki Spotlight Artists are: Severnica (symphonic metal) Can-Con artists this week are alt-pop act Ivory Hours (London, Ontario). New track from Judas Priest - March of the Damned (Glenn Tipton Introduction).
The World Is Ending
Down In Ashes - Down In Ashes

Drawn & Quartered
HIM - Tears On Tape
Lucifer's Chorale
HIM - Tears On Tape
Midnite Mass
Sanktuary - Something Fierce

To Hell And Back
Sabaton - Heroes

The Ballad Of Bull
Sabaton - Heroes

Night Witches
Sabaton - Heroes

No Bullets Fly
Sabaton - Heroes

Smoking Snakes
Sabaton - Heroes

Inmate 4859
Sabaton - Heroes

Resist and Bite
Sabaton - Heroes

Soldier of 3 Armies
Sabaton - Heroes

Far from the Fame
Sabaton - Heroes

Hearts Of Iron
Sabaton - Heroes

7734
Sabaton - Heroes

Man of War
Sabaton - Heroes

Origin Of The Infection
Psychotic Gardening - Hymnosis


Defile
Psychotic Gardening - Hymnosis


Re-Hybridized Strain
Psychotic Gardening - Hymnosis


Mindfold
Psychotic Gardening - Hymnosis


Searing Cital
Psychotic Gardening - Hymnosis


Genomic Degradation
Psychotic Gardening - Hymnosis


Garden Raiding
Psychotic Gardening - Hymnosis


Open Casket
Psychotic Gardening - Hymnosis


Journey To The Sun
Psychotic Gardening - Hymnosis


Bye Bye Beautiful
Nightwish - Made In Hong Kong (& Various Other Places)
Whoever Brings The Night
Nightwish - Made In Hong Kong (& Various Other Places)
Amaranth
Nightwish - Made In Hong Kong (& Various Other Places)
The Poet And The Pendulum
Nightwish - Made In Hong Kong (& Various Other Places)
Sahara
Nightwish - Made In Hong Kong (& Various Other Places)
The Islander
Nightwish - Made In Hong Kong (& Various Other Places)
Last Of The Wilds
Nightwish - Made In Hong Kong (& Various Other Places)
7 Days To The Wolves
Nightwish - Made In Hong Kong (& Various Other Places)
Escapist
Nightwish - Made In Hong Kong (& Various Other Places)
While Your Lips Are Still Red
Nightwish - Made In Hong Kong (& Various Other Places)
Cadence Of Her Last Breath (demo version)
Nightwish - Made In Hong Kong (& Various Other Places)
Long Lost Longing
Severnica - Long Lost Longing

My Journey
Severnica - Long Lost Longing

Death Row
White Spade / Extremity - demo

Rake
White Spade / Extremity - demo

Mirror, Mirror
White Spade / Extremity - demo

Hello Honey
Ivory Hours - Mary


Mary
Ivory Hours - Mary


Two Keys
Ivory Hours - Two Keys

Old Letters
Ivory Hours - Two Keys

Lithograph
Ivory Hours - Two Keys

Thread
Ivory Hours - Two Keys

Petals
Ivory Hours - Two Keys

Intro: The Looming Of Dust In The Dark (& The Illumination)
Woods Of Ypres - Pursuit Of The Sun & Allure Of The Earth - Krankenhaus Records

The Will To GIve
Woods Of Ypres - Pursuit Of The Sun & Allure Of The Earth - Krankenhaus Records

Allure Of The Earth
Woods Of Ypres - Pursuit Of The Sun & Allure Of The Earth - Krankenhaus Records

Summer's Envy
Woods Of Ypres - Pursuit Of The Sun & Allure Of The Earth - Krankenhaus Records

The Ghosts Of Summer's Past
Woods Of Ypres - Pursuit Of The Sun & Allure Of The Earth - Krankenhaus Records

Outro: The End Of August
Woods Of Ypres - Pursuit Of The Sun & Allure Of The Earth - Krankenhaus Records

March of the Damned (Glenn Tipton Introduction)
Judas Priest - Redeemer Of Souls