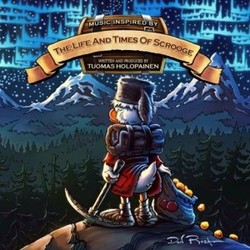 eV's Underground
Tuesday May 13th, 2014 with e.V., Queen of Doom
Xanthochroid / Tuomas Holopainen / Delain / Tyler Keeley
The Queen of Doom is back from the almost dead! Yes! e.V. has conquered the dread bronchitis and a migraine to bring you long overdue but still new music... In HOUR !: the remastered release of Xanthochroid's EP "Incultus", now available digitally vioa bandcamp. And courtesy of our dearest Lady Death, 2 fantastic albums in hours 2 and 3. Plus starting off Hour 2, a new track "All The Devils Toys" from Deathstars coming album, The Perfect Cult, which is slated to drop June 13th. The mix was handled by legendary Stefan Glaumann (RAMMSTEIN, WITHIN TEMPTATION), while the mastering was done by Svante Forsbäck (VOLBEAT, RAMMSTEIN). In Hour 2: Tuomas Holopainen of Nightwish's solo effort, "Music Inspired By The Life And Times Of Scrooge - Written And Produced By Tuomas Holopainen" In Hour 3: the latest Delain, "The Human Contradiction" . We have the Limited edition for you!
Adora Vivos
Woods of Ypres - Grey Skies and Electric Light - Earache Records

Bleed Well (Radio edit)
HIM - XX: Two Decades of Love Metal - Sony Music/The End Records
The Last Relic of Axen
Xanthochroid - Incultus - 2014 remaster - bandcamp self-release

Iced, In Extremis
Xanthochroid - Incultus - 2014 remaster - bandcamp self-release
Wormwood
Xanthochroid - Incultus - 2014 remaster - bandcamp self-release
Incultus
Xanthochroid - Incultus - 2014 remaster - bandcamp self-release

Elegies Of a Forgotten Race
Xanthochroid - Incultus - 2014 remaster - bandcamp self-release
Sword From An Unknown Hand
SIG:AR:TYR - Beyond The Northwinds - Morbid Winter Records

The Kiss Of Dawn
HIM - XX: Two Decades of Love Metal - Sony Music/The End Records
All The Devil's Toys
Deathstars - single - Nuclear Blast

Glasgow 1877
Tuomas Holopainen - Music Inspired By The Life And Times Of Scrooge - Written And Produced By Tuomas Holopainen - Nuclear Blast

Into The West
Tuomas Holopainen - Music Inspired By The Life And Times Of Scrooge - Written And Produced By Tuomas Holopainen - Nuclear Blast
Duel & Cloudscapes
Tuomas Holopainen - Music Inspired By The Life And Times Of Scrooge - Written And Produced By Tuomas Holopainen - Nuclear Blast
Dreamtime
Tuomas Holopainen - Music Inspired By The Life And Times Of Scrooge - Written And Produced By Tuomas Holopainen - Nuclear Blast

Cold Heart Of The Klondike
Tuomas Holopainen - Music Inspired By The Life And Times Of Scrooge - Written And Produced By Tuomas Holopainen - Nuclear Blast
The Last Sled
Tuomas Holopainen - Music Inspired By The Life And Times Of Scrooge - Written And Produced By Tuomas Holopainen - Nuclear Blast
Goodbye, Papa
Tuomas Holopainen - Music Inspired By The Life And Times Of Scrooge - Written And Produced By Tuomas Holopainen - Nuclear Blast

To Be Rich
Tuomas Holopainen - Music Inspired By The Life And Times Of Scrooge - Written And Produced By Tuomas Holopainen - Nuclear Blast
A Lifetime Of Adventure
Tuomas Holopainen - Music Inspired By The Life And Times Of Scrooge - Written And Produced By Tuomas Holopainen - Nuclear Blast
Go Slowly Now, Sands Of Time
Tuomas Holopainen - Music Inspired By The Life And Times Of Scrooge - Written And Produced By Tuomas Holopainen - Nuclear Blast

Here Come The Vultures
Delain - The Human Contradiction (Limited Edition)

Your Body Is A Battleground
Delain - The Human Contradiction (Limited Edition)
Stardust
Delain - The Human Contradiction (Limited Edition)
My Masquerade
Delain - The Human Contradiction (Limited Edition)

Tell Me, Mechanist
Delain - The Human Contradiction (Limited Edition)
Sing To Me
Delain - The Human Contradiction (Limited Edition)
Army Of Dolls
Delain - The Human Contradiction (Limited Edition)

Lullaby
Delain - The Human Contradiction (Limited Edition)
The Tragedy Of The Commons
Delain - The Human Contradiction (Limited Edition)
Scarlet
Delain - The Human Contradiction (Limited Edition)

Don't Let Go
Delain - The Human Contradiction (Limited Edition)
A Lifetime Of Adventure (Alternate Version)
Tuomas Holopainen - Music Inspired By The Life And Times Of Scrooge - Written And Produced By Tuomas Holopainen - Nuclear Blast

Vlad In Tears
Vlad In Tears - Vlad In Tears - Golden Core Records / ZYX

Abuse Me To Soothe Me
Hannu Lepisto - single - bandcamp/self-release

Changin' Mind
The Bloody Nerve - Blue - bandcamp/self-release
Strange
The Bloody Nerve - Blue - bandcamp/self-release
She
The Bloody Nerve - Blue - bandcamp/self-release
Caught
The Lionyls - single - Banccamp/self-release

Comes and Goes
Tyler Keeley - and somehow i fell upon this place

You Run
Tyler Keeley - and somehow i fell upon this place

It's Out There
Tyler Keeley - and somehow i fell upon this place

Victim Of The Times
Tyler Keeley - and somehow i fell upon this place

Raincoat
Tyler Keeley - and somehow i fell upon this place

The Last Song
Tyler Keeley - and somehow i fell upon this place

Into the Light
Tyler Keeley - and somehow i fell upon this place

Following The Full Moonlight
Tyler Keeley - and somehow i fell upon this place

Demons and Dreams
The Lucky Ones - Heartrbeak, Hangovers & Punk Rock

I Got Booze
The Lucky Ones - Heartrbeak, Hangovers & Punk Rock

Cheap Wine
The Lucky Ones - Heartrbeak, Hangovers & Punk Rock

I.O.B.D.
The Lucky Ones - Heartrbeak, Hangovers & Punk Rock

Hobart's Inn
Scythia - ...Of Exile

Second Sight
Monsoon Season - Biblical - New Damage Records

Caspian
City Of A Hundred Spires - Graveyard of Ships

All Justice No Peace
Monsoon Season - Biblical - New Damage Records

Dying Song (acoustic)
HIM - Screamworks: Love In Theory & Practise, volume 1-13 (special edition) - SIRE
New American Dream
Saints Of Rebellion - single