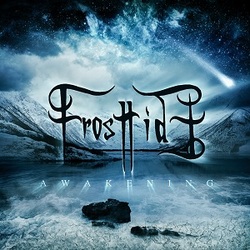 eV's Underground
Tuesday March 18th, 2014 with e.V., Queen Of Doom
Frosttide / Madrone / Lady Death's St. Patrick's Acoustic Picks
"...in which e.V. triumphs over the station's possessed, wayward & insubordinate ninja on-air computer #1." Finnish Melodic death/folk metal band Frosttide's album 'Awakening', in hour 1. Hour 2, half of alt-rock/metal band Madrone's album A Light In The Sky. Hour 3, Acoustic picks by Lady Death for this, your end of St. Patrick's Day show, 2014, selected from the soundtrack of 'REIGN' The Sepiachord Band Of The Week is Scott Bradlee's brilliant cover band Postmodern JukeBox, who gleefully stand mainstream rock and pop standards on their head via genius arrangements. This week's Helsinki Spotlight Artists are Cherry and the Night. The ReverbNation artist of the week is Hannu Lepisto who has a new single out with 2 bonus tracks - gonna hear one of those.
At the beginning you can hear the last blip of e.V. doing an impromptu fill-in for The Mixtape - that song at the beginning was the last song on their playlist... Daggerplay with "My Friends Are Mental and I Am Mental, Too" from Urban Campfire Songs.
Hearts At War
HIM - Tears On Tape - Double Cross
Winter's Call
Frosttide - Awakening - NoiseArt Records
Awakening
Frosttide - Awakening - NoiseArt Records
Quest for Glory
Frosttide - Awakening - NoiseArt Records
No Turning Back
Frosttide - Awakening - NoiseArt Records
Dawn of Despair
Frosttide - Awakening - NoiseArt Records
Siege
Frosttide - Awakening - NoiseArt Records
Ruins of Defeat
Frosttide - Awakening - NoiseArt Records
Unwritten
Frosttide - Awakening - NoiseArt Records
Why Not Me?
Within Temptation - The Unforgiving - Roadrunner Records
Shot In The Dark
Within Temptation - The Unforgiving - Roadrunner Records
In The Middle Of The Night
Within Temptation - The Unforgiving - Roadrunner Records
Faster
Within Temptation - The Unforgiving - Roadrunner Records
Fire And Ice
Within Temptation - The Unforgiving - Roadrunner Records
Iron
Within Temptation - The Unforgiving - Roadrunner Records
Where Is The Edge
Within Temptation - The Unforgiving - Roadrunner Records
Screaming At The End Of The World
Madrone - A Light In The Sky
November
Madrone - A Light In The Sky
Actors
Madrone - A Light In The Sky
Run and Hide
Madrone - A Light In The Sky
The House of Ghosts
Madrone - A Light In The Sky
The Story of Adam
Madrone - A Light In The Sky
Girl You're Alright
Paul Otten - Reign Soundtrack - Season 1 (2013)
The Loved Ones
Sanders Bohlke - Reign Soundtrack - Season 1 (2013)
Charlie Boy
The Lumineers - Reign Soundtrack - Season 1 (2013)
Back To You
Twin Forks - Reign Soundtrack - Season 1 (2013)
Wistful Thinking
A. Void & David Young - Reign Soundtrack - Season 1 (2013)
Navigate
Band Of Skulls - Reign Soundtrack - Season 1 (2013)
Flowers In Your Hair
The Lumineers - Reign Soundtrack - Season 1 (2013)
By Your Side
Alex & Sam - Reign Soundtrack - Season 1 (2013)
Wasting My Young Years
London Grammar - Reign Soundtrack - Season 1 (2013)
Metal & Dust
London Grammar - Reign Soundtrack - Season 1 (2013)
I Followed Fires
Matthew & the Atlas - Reign Soundtrack - Season 1 (2013)
With You
Dan Gautreau & Wolfgang Black - Reign Soundtrack - Season 1 (2013)
The Call
Ruu Campbell - Reign Soundtrack - Season 1 (2013)
Bottled Up Tight
Luke Sital-Singh - Reign Soundtrack - Season 1 (2013)
Younger
French Wives - Reign Soundtrack - Season 1 (2013)
Scotland
Scotland (Theme from Reign) - Reign Soundtrack - Season 1 (2013)
Sweet Child O' Mine
Postmodern Jukebox (featuring Miche Braden) - Postmodern Jukebox
Blurred Lines
Postmodern Jukebox - Postmodern Jukebox
Walking On Glass
Cherry and the Night - single

Sky On FIre
Cherry and the Night - demo
Larger Than Life
Hannu Lepisto - Have A Beautiful Life
I Wanna Walk All Night (acoustic) (demo)
Hannu Lepisto - Abuse Me To Soothe Me single

Abuse Me To Soothe Me
Hannu Lepisto - Abuse Me To Soothe Me

Goodbye Gemini
Blood Ceremony - The Eldritch Dark

Witchwood
Blood Ceremony - The Eldritch Dark

Yawning Gods
Electric Ruin - Electric Ruin

(The Day After) the Farmer Died
Muffler Crunch - Little Things

The Minstrel and the King
The Night Watch - The Night Watch

Into The Sky
Down In Ashes - Sexy Machinery

Black Funeral Dress
Aunt Ange - Olga Walks Away
Open Your Eyes
Madrone - A Light In The Sky

Time Is Slipping Away
Madrone - A Light In The Sky

Head Up
Madrone - A Light In The Sky

Arson
Madrone - A Light In The Sky

A Light In The Sky
Madrone - A Light In The Sky

Far Away
SIG:AR:TYR - Beyond The North Winds