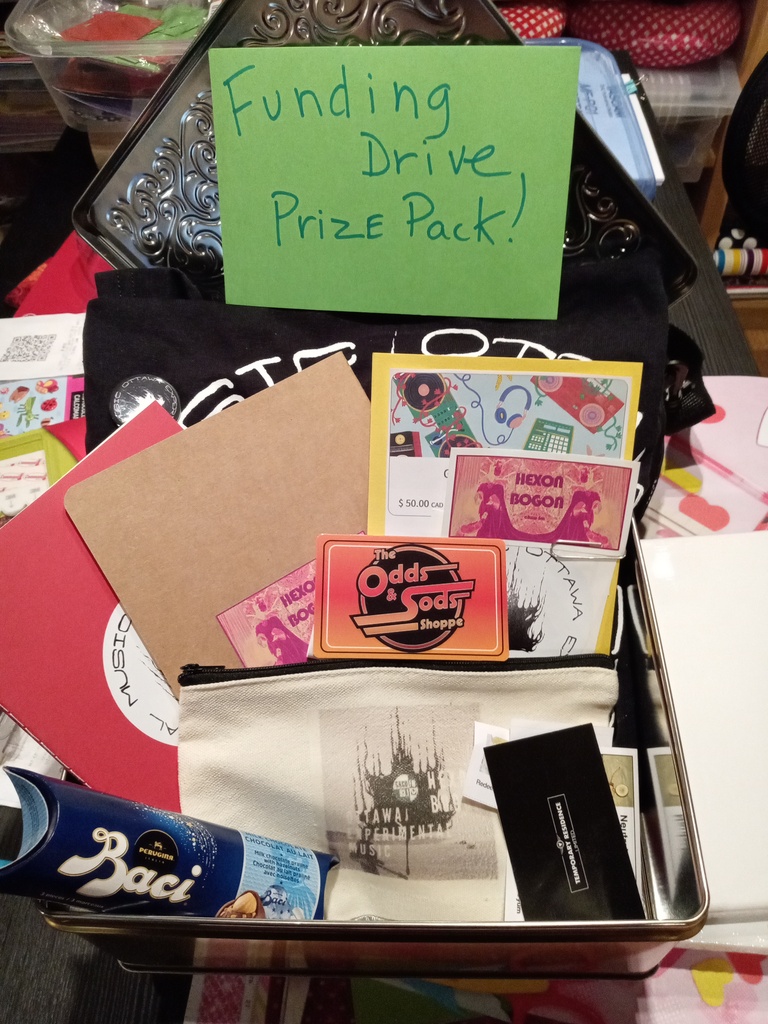 Hexon Bogon
Friday November 18th, 2022 with Adriana Ciccone
Post Funding Drive show.
In this episode, you'll hear a dedication to Mimi Parker of LOW and music by LOW, Paul Anthony, Snowdrops, Blanco Teta, Lumenette, Eon Collide, Baker Ja Lehtisalo, Black Ox Orkestar, Carved Into the Sun, and Cloud Circuit. I want to thank everyone who donated to the funding drive via Hexon Bogon. We surpassed the show's funding goal of $1000!!! I don't know the exact total as some of the donation amounts were anonymous, but I do know that we surpassed the $1000 goal. That's huge and I can't thank you enough. There really is no CKCU without YOU! Some of you wished to remain anonymous but I do want to list those who shared their names and words of encouragement. Thank-you to all the ANON donations and Regis L, Alan K, A&P, Kenneth, Frank S, Alan S, Gab T, Paul A, Candace N, Jean P/Kosmavermo, Jack C, Mónica C, Peter B, Shane H, Chris T, and Harry F!! Your names will be put in a hat for a chance to win the prize pack shown in the playlist photo. It contains two gift cards, one for The Odds & Sods shop (value $50), another for Bandcamp (value $50). It also includes download codes to various releases, a Hexon Bogon/OEM pencil case, notebooks (2), stickers, a pin, and OEM t-shirt. I've also added a little pack of Baci chocolates. I will announce the winner of the prize pack on Dec 2nd! You still have time to donate to the FD as the station has not met its $190,000 goal yet.
https://www.canadahelps.org/en/dn/75967?v1=true
Rome (Always in the Dark)
LOW - Double Negative - Sub Pop
Into You
LOW - Ones and Sixes - Sub Pop
Plastic Cup
LOW - The Invisible Way - Sub Pop
$20
LOW - C'mon - Sub Pop
One Special Gift
LOW - Christmas - Sub Pop
Laser Beam
LOW - Things We Lost In The Fire - Sub Pop
All Night
LOW - HEY WHAT - Sub Pop
If you would like to read the full article on Mimi Parker written by Alex Williams of The New York Times, you can find it here: https://www.nytimes.com/2022/11/11/arts/music/mimi-parker-dead.html
The City Sleeps
Night On Wish Mountain - Uncirculated - Bishops Bloc

Firebirds
Snowdrops - Missing Island - Injazero Records

Esther
Blanco Teta - TVL​-​003 // Blanco Teta - self-released
Calificativo Calidestructivo
Blanco Teta - TVL​-​003 // Blanco Teta - self-released
I recommend checking out Blanco Teta via the KEXP Youtube channel here: https://youtu.be/PhagKnMLMRA
Want to learn more about this band? Check out their site here: https://ebbmusic.eu/artists/blanco-teta/
Wake Up
Lumenette - All Around My Head - Hammock Music Label

There's a great review of Lumenette's album written by Zachary over at Echoes and Dust. You can read it here: https://echoesanddust.com/2022/11/lumenette-all-around-my-head/
Watchman
Eon Collide - The Entrance - self-released

(And I Want Your Perfect) Crocodile Tears
Baker Ja Lehtisalo - Crocodile Tears - Broken Spine Productions


Mizrakh Mi Ma'arav
Black Ox Orkestar - Everything Returns - Constellation Records


Shoreless
Carved Into the Sun - The Earth Fell Away - De Mist Records

Speed of Sound, a trail of airplane exhaust [slowly]
Cloud Circuit - Bur sting brea k'r - Archive Officielle Publications

If you are planning to be in Montreal this Sunday, definitely check out this show happening at La Sala Rossa with Greg Davis, Cloud Circuit, and Ylang Ylang. More info:
Sun Nov 20, 2022
Greg Davis (VT, lancement d'album) / Cloud Circuit / Ylang Ylang
La Sala Rossa, Montréal
Link: https://thepointofsale.com/tickets/czz221120001?fbclid=IwAR2i8PJnQMyQ_JZni6GMbAdxde_AWsFM_Jpc5gccsuwQxe1Wmml8891xObk

On Nov 30th, Cloud Circuit will be in town with Ottawa's own Khaleefa "Apollo the Child" Hamdan & Rasiqra Revulva. The show will be at Club Saw but also virtual!! This is a PWYC event with money raised going towards helping the Riverbed Reading Series. More info:
Wed Nov 30, 2022
With Khaleefa "Apollo the Child" Hamdan & Rasiqra Revulva
Season 3, Riverbed Reading Series
Online & in person
Club SAW, 67 rue Nicholas St., Ottawa ON
Link: https://www.riverbedreads.ca/

I had the opportunity to interview Cloud Circuit in May of 2020. If you would like to revisit that episode, please go here: https://cod.ckcufm.com/programs/ondemand-player.html?id=47699&token=RjJaoGgo%7DpfmG2y6REnL%5E%21%5E%2FaqB%29%7E.%2A8A%24CJj4VSg%3F%25A%5BVR%22l4