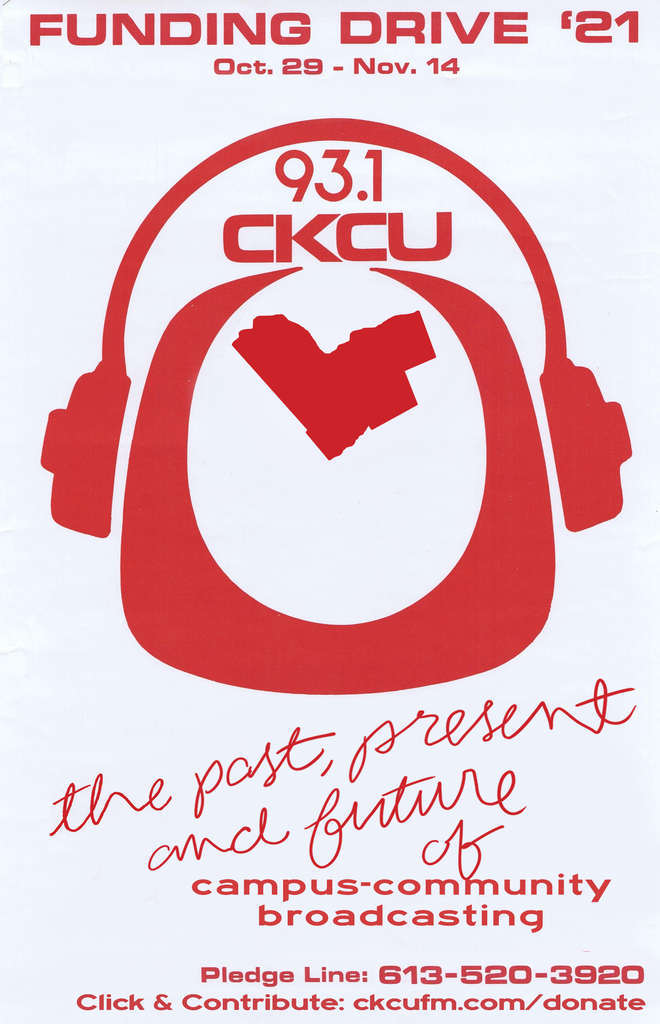 Hexon Bogon
Friday October 29th, 2021 with Adriana
Ushering in another CKCU Funding Drive with some Halloween fun.
The CKCU Funding Drive starts today. This year's goal is $160,000. Please donate if you can. Also, Halloween is just a couple of days away so I thought I would select tracks whose track names include words often associated with this frightful day. Something fun...Try to pick out the words in each track title and see if you can make a sentence with it, a new band name, a story, or a drawing. Might be fun! Please share if you do via the playlist or email at ottawaexperimentalmusic@gmail.com. For this year's funding drive, I have two prize packs to give away. One prize pack includes two tickets to see Godspeed You! Black Emperor when they play at the Bronson Centre on May 7th here in Ottawa plus a download code for their album G_d's Pee At States End (value: $82.18). The other prize pack includes a $40 gift certificate to the OddsnSods shop here in Ottawa plus a few more download codes and other goodies. All you have to do to enter to win is make a donation to CKCU via this link:
https://www.canadahelps.org/en/charities/CKCU/p2p/CKCU-2021-funding-drive/team/hexon-bogon/
This link is for donations made online with credit cards or Paypal. This link will send you directly to the Hexon Bogon donation page so one can contribute via their favorite CKCU show or shows (each show has its own link). *Please note, the "Join This Team" feature on the 'Canada Helps' donation page is an advanced feature that we are not using but we are unable to remove it. There is no need for anyone to sign-up for this.
Nosferatu Man (Remastered)
Slint - Spiderland (remastered) - Touch and Go Records
Panophonic - My Latest Trick
Panophonic - Nothing Much To Lose / shoegaze compilation - RAY REC
This Cat Has No Moral Compass
Whale Fall - Sondersongs - self-released
Pulse
Sioum - I Am Mortal, But Was Fiend - self-released
Judgement, In Fire: I – Garden (Of Blooming Ash)
Bell Witch - Four Phantoms - Profound Lore Records
Ghost of Perdition
Opeth - Ghost Reveries - ROADRUNNER RECORDS
All The Witches You Failed To Burn
Loviatar - Lightless - Prosthetic Records

Hollow Hills
Bauhaus - Mask (CD Reissue) - Beggars Banquet
Does your blood not move?
OBUXUM - Re-Birth - URBNET

Flash in the Dark
Headless Nameless - Ominus Spiritus - Artoffact Records


Be My Victim - Happy Halloween
PARAGⴲN CAUSE - Be My Victim - Happy Halloween - self-released

The Moon Into Blood
A Headless Horse - Belong / The Moon Into Blood - self-released
Hunter's Moon
Longhouse - II: Vanishing - self-released

Red Moon
Cavern - Powdered - self-released
Ghost on High
Russian Circles - Blood Year - Sargent House
Ghost Bird Rises
Clara Engel & Bradley Sean Alexander - Ghost Bird - Polar Seas Recordings

Color of Blood
Chelsea Wolfe - Abyss - Sargent House
Walking in A Graveyard (Bloody Witch)
Bright Curse - Walking in A Graveyard (Bloody Witch) - self-released
Screamer
Mental Architects - Ascend - Old Press Records
Ghoster Coaster
RAAS - Ghoster Coaster - self-released