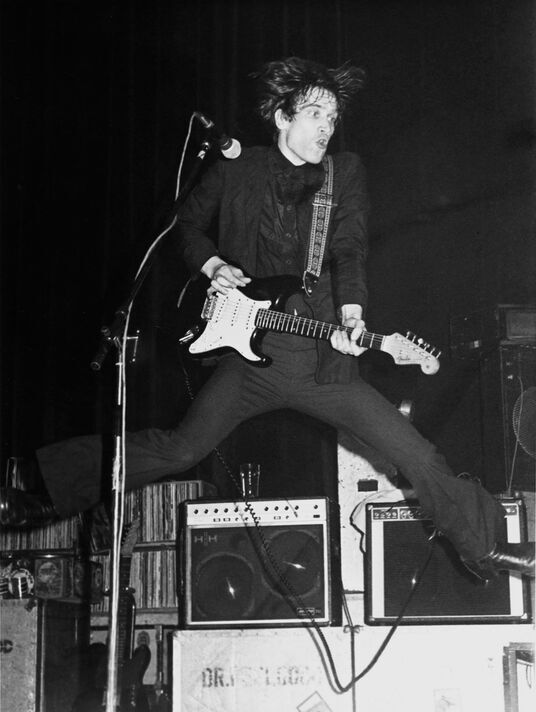 Renny's Riot
Wednesday December 7th, 2022 with Reverentially Renny
A twofer Riot. Starting with WHAT WAVE SURFING: Great Canadian garage rock from the 80's & 90's featured on the What Wave cassettes. WILKO, OVER & OUT. In memory of the late, great guitarist & pub rocker, Wilko Johnson.
The What Wave Records (and fanzine) cassettes can now be found on Mixcloud. Just type in whatwave and dig those tunes like the should be dug.
Renny's Riot
The Scarlet Drops - The Scarlet Drops 1984-1992 - 1992 What Wave Records (What Wave fanzine #21)/2021 Harriet Records/Bandcamp

Hypodermic Beach
Fridge Magnets - Baloney Sandwich: 30 Meaty Slices - 1990 What Wave Records (What Wave fanzine #12)

Warsaw
The Mood - Cat O'Nine Tales - 1992 What Wave Records (What Wave fanzine #21)

Frozen Beach
The Scarlet Drops - The 8th Wonder: At Least 30 Tunes - 1991 What Wave Records (What Wave fanzine #20)

Can Teens
The Hippies - Slippery's Club Hits Part 2 - 2012 What Wave Records (What Wave fanzine #24)

Skate
Spiny Anteaters - Cat O'Nine Tales - 1992 What Wave Record (What Wave fanzine #21)

Little Girl
The Projectiles - Garunge - 1984 What Wave Records (What Wave fanzine #4)

Pretty Girl
The Chessmen - What's All The Fuzz About - 1989 What Wave Records (What Wave fanzine #8)

Out Side
The Loved Ones - Baloney Sandwich: 30 Meaty Slices - 1990 What Wave Records (What Wave fanzine #12)
New Song
Slacker - London Crawling - 1996 What Wave Records

Rippin' It Up
Legend Killers - Cat O'Nine Tales - 1992 What Wave Record (What Wave fanzine #21)

Exacto Knife
Ross Daily - London Crawling - 1996 What Wave Records

Sally Groovy
Mustang Lightning - Cat O'Nine Tales - 1992 What Wave Record (What Wave fanzine #21)
Too Many Women
The Cheshyres - Wave From The Grave 2 - 1987 What Wave Records (What Wave fanzine #2)

I Don't Mind
Dr. Feelgood - Down By The Jetty - 1975 United Artists Records
Twenty Yards Behind
Dr. Feelgood - Down By The Jetty - 1975 United Artists Records
I Can Tell
Dr. Feelgood - Malpractice - 1975 United Artists Records
You Shouldn't Call the Doctor (If You Can't Afford the Bills)
Dr. Feelgood - Malpractice - 1975 United Artists Records
She Does It Right (live)
Dr. Feelgood - Stupidity - 1976 United Artists Records
Back In The Night (live)
Dr. Feelgood - Stupidity - 1976 United Artists Records
Sneakin' Suspicion
Dr. Feelgood - Sneakin' Suspicion - 1977 United Artists Records
Walkin' On The Edge
Dr. Feelgood - Sneakin' Suspicion - 1977 United Artists Records
Signboard
Solid Senders - Solid Senders - 1978 Virgin
Everybody's Carrying A Gun
Solid Senders - Solid Senders - 1978 Virgin
Paradise (live)
Solid Senders - Solid Senders - 1978 Virgin
I Want A Drink
Mick Farron - Vampires Stole My Lunch Money - 1978 Logo/2018 Gonzo Multimedia
Let Me In, Damn You
Mick Farron - Vampires Stole My Lunch Money - 1978 Logo/2018 Gonzo Multimedia
Bottle Up And Go
The Wilko Johnson And Lew Lewis Band - Heroes Of Pub Rock -Living On The Front Line - 1983/1994 Thunderbolt/Magnum Music Group
I Wanna Be Your Lover (Bob Dylan)
The Wilko Johnson And Lew Lewis Band - Heroes Of Pub Rock -Living On The Front Line - 1983/1994 Thunderbolt/Magnum Music Group
Out In Traffic
Wilko Johnson - Barbed Wire Blues - 1988 Jungle Records
Turned 21
Wilko Johnson - Barbed Wire Blues - 1988 Jungle Records
Going Back Home
Wilko Johnson & Roger Daltrey - Going Back Home - 2014 Chess
All Through The City
Wilko Johnson & Roger Daltrey - Going Back Home - 2014 Chess
Slamming
Wilko Johnson - Blow Your Mind - 2018 Chess
Say Goodbye
Wilko Johnson - Blow Your Mind - 2018 Chess