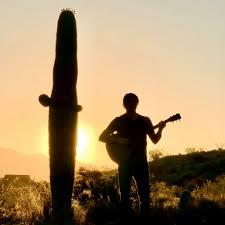 Renny's Riot
Wednesday February 16th, 2022 with Relevant Renny
To celebrate the 110th anniversary of Arizona's statehood the ALL ARIZONA CLAMBAKE. The A-Z of AZ and the L.S.D. (Lower Sonoran Desert).
El Con Malo (instr)
Al Perry & The Cattle - Cattle Crossing - 1985/2005 Addled Records
We Got Cactus (Bloodspasm cover)
Al Perry - Always A Pleasure - 2004 Addled Records
Drinking Tequila
Romaine Lowdermilk - The Dude Wrangler - 1955 unissued/2016 Ramco Records True West
Way Out There
The Sons Of The Pioneers - Cattle Call-Early Cowboy Music And It's Roots - 1934 Decca/1996 Rounder Records
Cattle Call (Tex Owens cover)
The Cattle - Cattle Call 7" single - 1989 Dionysus Records
House Of Blue Lights (Freddie Slack, Ella Mae Morse, Don Raye cover)
The Meat Puppets - Fast Track To Nowhere - Songs From The Showtime Original Series "Rebel Highway" - 1994 A&M Records
The Milwaukee Beast
Al Foul & The Shakes - Spank That Ass! - 2000 Slimstyle Records
Tough Luck
Don Armstrong - The Best Of Don-Ray Records - 1960 Don-Ray Records/2019 Number Group
We Got Cactus
Blood Spasm - Yeah, But It's A Dry Heat... (A Tucson, Arizona Compilation) - 1993 Westworld
Clint
ONU - unreleased single - 2021 unreleased
Voodoo Godhead
Naked Prey - Club Congress 20th Anniversary Concert - 2009 unreleased
Ace Of Spades (Motörhead cover)
The Cattle - Vecinos del Pueblo Viejo - 1988 San Jacinto Records
Formaldehyde
Phantom Limbs - Train Of Thought - 1986 CD Presents Ltd.
Folsom Prison Blues (Johnny Cash cover)
Grant & The Geezers - Rockabilly Psychosis & The Garage Disease - 1984 Big Beat Records
I Begged God to Kill Me (but the Bastard Let me Live)
Fish Karma - Theory Of Intelligent Design - 2006 Alternative Tentacles/Bandcamp
Antisocial Media
Fish Karma And/Or The DeRailleurs - Time To Say Goodbye - 2018 Alternative Tentacles/Bandcamp
Mellow Down Easy (Willie Dixion/Little Walter & The Jukes cover)
Rainer & Das Combo - Barefoot Rock With Rainer & Das Combo - 1986 Making Waves
Rebel-'Rouser (instr)
Duane Eddy & His "Twangy" Guitar - Rock Instrumental Classics Vol. 1: The '50s - 1958 Jamie Records/1994 Rhino Records
Boondocker (instr)
The Clashmen - Think Of The Good Times; The Tucson '60's Sound - 1963 Copper State/2002 Bacchus Archives
Break Away (instr)
The Occasionals - Think Of The Good Times; The Tucson '60's Sound - 196? Audio Recorders, Arizona
Scandal (instr)
King Rock & The Knights - Tucson Rock 1959 - 1959/2021 Zoom Records
Turn On (instr)
The Ric-A-Shays - Think Of The Good Times; The Tucson '60's Sound - 1965 Lola Records/2002 Bacchus Archives
Tijuana (instr/Link Wray cover)
Al Perry - Live At the Club Congress (Instrumentally Speaking) - 1993 unreleased/2009 Slušaj Najglasnije!
Come On (Baby)
Michael P. & The Gullywashers - Drivin' & Drivin' - 2020 self-released/Bandcamp
Stop It Baby (The Heard cover)
The Marshmallow Overcoat - Inner Groove/Try On The Marshmallow Overcoat LPs & Rare B-sides - 1986 Dionysus Records/1993 Collectibles
Torment
The Night Sounds - Think Of The Good Times; The Tucson '60's Sound - 196? The Sound Of Soul/2002 Bacchus Archives
Something Different
Richard Stormy - Think Of The Good Times; The Tucson '60's Sound - 196? unknown label/2002 Bacchus Archives
Think Of The Good Times
The Stumps - Think Of The Good Times; The Tucson '60's Sound - 1967 Boyd Records/2002 Bacchus Archives
You're My Style
Yard Trauma - It Must Have Been Something I Took Last Night - 1985 Dionysus Records
Cry A Little Longer
The Grodes - Tongues Of Truth/The Grodes - 1965 Tri-M Records
Let's Talk About Girls
The Tongues Of Truth - Tongues Of Truth/The Grodes - 1966 Current Records
Pooside (instr)
Michael P. & The Gullywashers - New Waves - 2016 self released/bandcamp
Chunder (instr)
The Friends Of Dean Martinez - The Shadow Of Your Smile - 1995 Sub Pop
Finland (instr)
Al Perry & The Cattle - Cattle Crossing - 1985/2005 Addled Records
4WDORV
Al Perry & The Cattle - Cattle Crossing - 1985/2005 Addled Records
If I Ever
Al Perry & The Cattle - Cattle Crossing - 1985/2005 Addled Records
Big Blue Ford
Gila Bend - Kim Chee Cowboy - 1993 Still Sane Records
Revolution Blues (Neil Young cover)
The Band Of Blacky Ranchette - The Band Of Blacky Ranchette - 1985 New Rose Records
Daddy's Girl
Al Perry & Dan Stuart - Retronuevo - 1993 Normal
Sixteen Ways II
Green On Red - The Enigma Variations - 1985 Enigma Records
Cinnamon Girl (Neil Young cover)
The Cattle - Raw Cuts Vol. 6-American Psych Wars - 1987 Satellite Records
Big Daddy
Fish Karma - Hellhound On My Leg - 1988 Addled Records