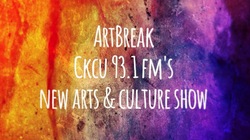 ArtBreak
Tuesday November 11th, 2014 with Kristine St-Pierre
Arts & Culture
‪This week on #‎ArtBreak‬ - The Dead Bees are live in studio! Also, we talk to singer-songwriter Lynne Hanson about what inspires her and her new album, we talk to Amanda Parris, co-founder of Lost Lyrics, an organisation that uses hip hop in the classroom and we spend the afternoon with singer-songwriter Kelly Sloan at the Old Mill in Ashton open mic! And plenty of music :))
@ 6:00 - Interview w/ the band The Dead Bees.
Cannonbal
The Dead Bees - -


Misery
The Dead Bees - -


CD Release at Irene's Pub, Friday Nov. 14. Also playing Still Winter Hills and The Orienteers.
Mary Mary
Lynne Hanson - When Lovers Leave

Good Intentions
Lynne Hanson - River of Sand


@ 30:35 - Interview w/ songwriter Lynne Hanson.
Playing Friday, Nov. 14 at the NAC 4th Stage with her band The Good Intentions.
Also playing Saturday, Nov. 15 at The Branch in Kemptville, also with her band (trio).
@ 35:30 - Interview w/ Amanda Parris, co-founder of Lost Lyrics.
Juste parce que je peux
Lisa LeBlanc - -

Playing Thursday, Nov. 13 at Rituals Nightclub in Ottawa. Opening acts: Kristine St-Pierre and Streamers. 9PM. Bilingual show.
Early To The Sun
Xprime - The Album

Playing Wednesday, Nov. 12 at Avant Garde Bar.
@ 50:05 - Interview w/ singer-songwriter Kelly Sloan.
I'm Trying To Leave
Shawna Caspi - Apartments for Lovers


For a limited time, you can download the song "I'm Trying To Leave" for free on Shawna Caspi's website - www.shawnacaspi.com.