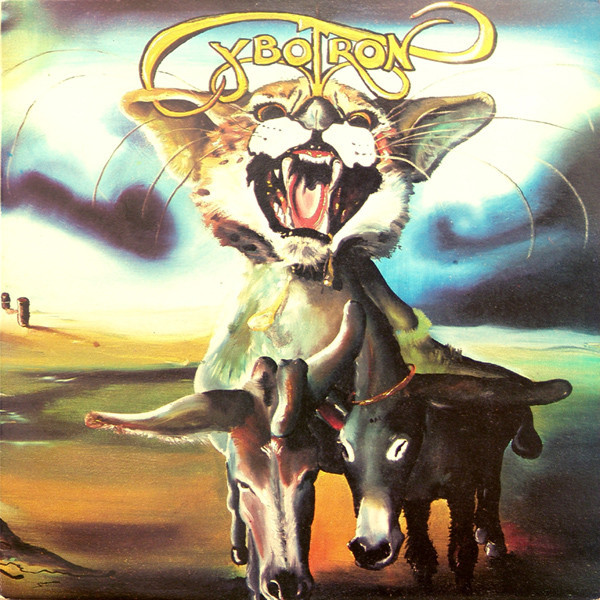 Electronic Meditation
Tuesday March 5th, 2019 with Sean McFee
Tie me minimoog down
The Australian progressive electronic group Cybotron was formed by synthesists Steve Maxwell Von Braund and Geoff Green in the mid-1970s, with other members on the usual rock instruments. They were certainly influenced by Berlin school electronic music, but also added some rock, psych, and raga elements at times. The use of saxophone on some pieces (by Von Braund) also adds a different colour than usual. Three studio albums and an official bootleg exist, as well as multiple singles. All of their work has been reissued, more or less, on CD.
Cybotron's first album came out in 1976 on the Clear Light of Jupiter label. Needless to say they were the only act of their kind in Australia at the time. Von Braund had one previous release, 1975's "Monster Planet". While aware of the German scene from his time in London in the early 70s, Von Braund was at least as much influenced by jazz music and the explorations of Wendy Carlos.

There were multiple versions of the Ride to Infinity single. I am playing the longer one, which came out on the Cleopatra label in 1979. Both versions appear as bonus tracks, one on the S/T reissue and the other on the Sunday Night reissue.
Arrakis
Cybotron - Cybotron - Dual Planet
Ride to Infinity
Cybotron - Ride to Infinity (7") - Dual Planet
"Sunday Night at the Total Theatre" was an official bootleg of a show from 1976. Legend has it that the group was having difficulty getting gigs, so Von Braund arranged for one of their shows to be recorded and "illicitly" distributed to help build the notoriety of the group. It was reissued in recent years by the Dual Planet label.
Vulcan
Cybotron - Sunday Night at the Total Theatre - Dual Planet
The two later albums add more of a rock element, although I didn't necessarily take the most exemplary tracks of that influence. "Colossus" came out in 1978 and "Implosion" in 1980. The latter was an attempt at a more commercial sound, but music like this can only get so commercial.

"Colossus" had a weird reissue in the early 90s that mislabels one track and omits another, although yet again includes "Ride to Infinity" as a bonus track. "Implosion" was reissued by the Aztec label with a bunch of bonus material back in 2006.

One reason for the weird reissue track record for this group is that their three studio albums all came out on different labels, perhaps not a surprise for such inaccessible music. The first album came out on Clear Light of Jupiter, the second on Champagne, and then the third on Cleopatra. The two versions of the Ride to Infinity single came out on Champagne and Cleopatra respectively, as the group seemingly went back to the well with each new label.
Colossus
Cybotron - Colossus - In-Akustik
Eureka
Cybotron - Implosion - Aztec
We close with another Australian group, of more recent vintage. Sh'mantra corners the market on neo-space-post-psych from New South Wales. I actually got this CD to review ages ago or else I never would have heard of these guys. A release that is obscure but not rare, it is still readily obtained on Discogs for a good price.
Suburst on the Cayman Trench
Sh'mantra - Formula Orange - Sprock