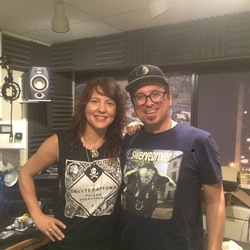 Nothing To See Hear
Monday June 22nd, 2015 with DJ DesTrois & Erin
Dirty Ghosts tracks and more!
Today on Nothing To See Hear Erin McDermott joins us in the CKCU studios to play a few tunes including a sneak preview of a song from the upcoming 2nd LP from her band Dirty Ghosts!
Witch Hunt
Dirty Ghosts - Cataract EP - Burger


Cataract
Dirty Ghosts - Let It Pretend - Last Gang


Fan The Flames
Sheer Mag - II 7"
Midnight Kino
Maniac - S/T
When The Summer Ends
Ryan Adams - 1984 - Pax/Am
What If You Were Wrong
Ryan Adams - 1984 - Pax/Am
Over Ans Over
Ryan Adams - 1984 - Pax/Am