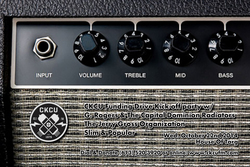 Nothing To See Hear
Tuesday October 21st, 2014 with Dave Aardvark
Some "wiggly" new releases, some bands playing in support of CKCU and Nurse With Wound just because!
Deja Hier
Avec le Soleil Sortant de sa Bouche - ZubberDust! - Constellation


Tomorrow It Will Be Fine
H. De Heutz - 7" - Black Bough


Raided Premise Discotheque
Jerry Gross Organization - CD demo - demo


Tarantino
G Rogers & The Capital Dominion Radiators - 7" - Pretty Bad

all tracks Live at Café Dekcuf
Slim & Popular - Live at Dekcuf May 2014 - live/unreleased

C'mon out, and gear up for CKCU's Funding Drive with us! Featuring three bands with three drummers who host shows at CKCU!
THE JERRY GROSS ORGANIZATION (featuring Bill Guerrero host of "Crimes against Music")
SLIM & POPULAR (Featuring Dave Faught host of "The Night Watch"!)
G. ROGERS & THE CAPITAL DOMINION RADIATORS (featuring Dick AltaVista host of "Both Kinds Of Music")
Tomorrow night! At th' HOUSE Of TARG (1077 Bank St.)
$5/10 suggested donation at the door
presented by CKCU and Off The Beaten Track
San Francisco
Banditas - S/T - Last Drag

Sticky Bun
Dead Wrestler - 6 Song EP - independent

Both Banditas & Dead Wrestler as well as NECK play the Dominion Tavern Friday November 7th a CKCU fundraiser presented by Thee Upstairs Neighbour.
Home
Paterson Hall - The Eaves EP - independent


Patterson Hall play Fryquency which this month is a fundraiser for CKCU along with Organ Eyes, and V Infernalis @ Mugshots on November 1st!
Brain Buffet
Evil Farm Children - The Evilling - Dad's Favourite

CKCU presents: Evil Farm Children, Tongue Fu (members of Teenage Head, Purple Toads, The Killjoys etc…) @ House of TARG Saturday November 8th
Rock 'n' Roll Station
Nurse With Wound - Rock 'n' Roll Station - Beta-Iactam Ring