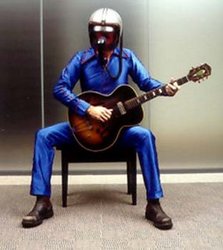 Nothing To See Hear
Wednesday August 13th, 2014 with Dave
Bob Log III plus... Fleshing out a few direct deposit cents from SOCAN into some canuck musicians hands who are pointlessly or otherwise registered ha ha!!
That Old Outlaw
Demon's Claws - Satan's Little Pet Pig - In The Red (2007)

Ray Charles Party
Dinner Is Ruined - Ray Charles Kinda Party - Sonic Unyon (2000)

All In My Head
The Mongrels - ep - indie

Hideout
The Coggs - Mean Dog Howl - Rusty Junk

Dull Lights (White Or Grey)
Eric Chenaux - Guitar & Voice - Constellation

The Garbage Song
Polkaholics (T.O.) - 12" - Utility Grade

Generic
Fat - Plays For You - Amok

Three Simple Songs
Bill Smith Ensemble - The Subtle Deceit Of The Quick Gloved Hand - Sackville

Log Bomb
Bob Log III - Log Bomb - Fat Possum (2003)
Bob Log III plays Zaphods tomorrow night with guests: Hunter, Matt Morel and Catriona Sturton. There are advance tickets still available. If you haven't seen Bob before, he's very entertaining, don't miss it!!
Gentil
Jesus Les Filles - Le Grain D'Or - indie