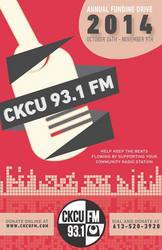 Playlists
Tuesday October 28th, 2014 with Emma B
Campus Radio Rocks!
Annual funding drive! My goal this year is $100, since I'm still a baby show and haven't even been here a full year! I'm hoping to surpass that goal though! This week on PLAYLISTS I'm featuring all Canadian music and some of my fav local tracks. We hear from Nathan from This Harbour by phone and talk about the importance of campus radio as well as what they've been up to this year. Later in the show, we read a letter from Tall Trees to PLAYLISTS about CKCU and PLAYLISTS, and how they truly love our station. Pretty cool stuff. Please donate to keep all of our wonderful programs on the airwaves!
https://www.ckcufm.com/secure/pledge/
You won't find another station as unqiue as CKCU!
Love is Louder(Than All This Noise)
Craig Cardiff - Love is Louder(Than All This Noise)

Overflow
Tindervox - Tindervox

White Flag
Royal Wood - The Burning Bright

Bonnie and Clyde
This Harbour - The Wicked and the Wild

Sleep Well
This Harbour - The Wicked and the Wild

Katie Glover
Katie Glover - Let Me In

Isolation
Tropical Dripps - Cool Dude

Girl On My Mind
Tall Trees - How To Take A Fall

Going Home
Tall Trees - How To Take A Fall

Rolling Stone
S K Y T O N E - Shining Over You

Exodus of the Year
Royal Canoe - Today We're Believers

Smalls
JPNSGRLS - Circulation