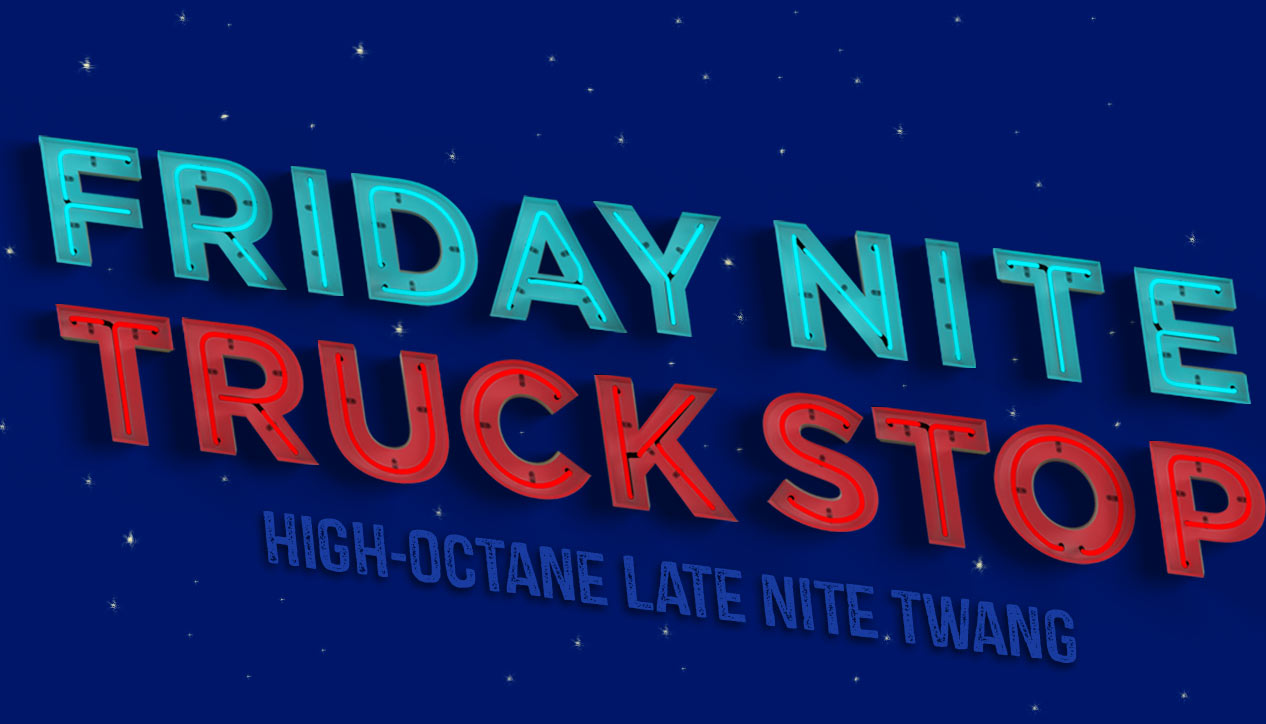 Friday Nite Truck Stop
Friday January 17th, 2020 with Ray Harris
Veteran Ottawa musician Ian Cook drops by to talk about an upcoming Dimestore Playboys gig, and is bringing a handful of his fave tracks as well.
Bullish Boogie (instrumental)
Albert Lee - Speechless
Rock 'N' Roll Man
Albert Lee - s/t
Luxury Liner
Emmylou Harris - Luxury Liner
Come Up And See Me Anytime
Albert Lee - Hiding
My Baby Thinks He's A Train
Rosanne Cash - Seven Year Ache
'Til I Can Gain Control Again
Rodney Crowell - s/t
You Are The One
Carlene Carter - I Fell In Love
Rhythm Of The Road
Sylvia Tyson - You Were On My Mind

Sweet Little Lisa
Dave Edmunds - Repeat When Necessary
Country Boy
Head Hands & Feet - s/t
Walk A Mile In My Shoes
Green Bullfrog - s/t
Real Gone Baby
The Dimestore Playboys - Single

Be Your Man
The Dimestore Playboys - Single

If It Ain't Rockin'
The Blue Shadows - On The Floor Of Heaven

Crawlin' Back
Kim Lenz - The One And Only
You Better Treat Your Man Right
George Jones - The Best Of...
Out Of Habit
BR549 - Big Backyard Beat Show
I Got The Green
The Bullets - 21st Century Rockabilly Vol 2
Forty Creek Breakdown (instrumental)
Billy MacInnis - Strings Attached

You Were Mine
Tami Neilson - Chickaboom!


Good Trouble
Samantha Martin - Run To Me

There Are Strange Things Happening Every Day
Sister Rosetta Tharpe - Best of...
Blistered
Johnny Cash - Hello, I'm Johnny Cash
Wreck Of The Ol' 97
Tom Russell - October In The Railroad Earth
Rock Island Line
Little Richard w/ Fishbone - A Vision Shared, A Tribute to Woody Guthrie & Leadbelly
Man In Black
Johnny Cash - Man In Black
The Woman In Black
Gene Vincent - The Day The World Turned Blue
Cold
The Everly Brothers - Unmasked (The Platinum Collection)
Lord Of The Manor
The Everly Brothers - Walk Right Back
Long Way Home
Lynne Hanson - Just Words


Stratosphere Boogie
Jimmy Bryant & Speedy West - Wizards Of Country Guitar