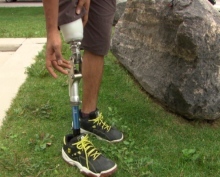 Soy Latinoamerica
Monday October 6th, 2014 with Alejandro Hernandez
Interview with Selvan Mohan, a Carleton PhD student fundraising for a new prosthetic leg
You can support Mohan through this webpage:
http://www.youcaring.com/medical-fundraiser/carleton-university-student-needs-new-prosthetic-leg/224234
As wrote on the CBC: (
http://www.cbc.ca/news/canada/ottawa/selvan-mohan-trying-to-raise-11k-for-prosthetic-leg-1.2749235
) Selvan Mohan trying to raise $11K for prosthetic leg An international student from Malaysia is trying to raise thousands of dollars to replace his failing prosthetic leg while living in Ottawa. Selvan Mohan, 24, was born without a right tibia, kneecap and ankle. His prosthesis lets him run, hike and cycle, but it's wearing down and needs to be replaced. "There's a lot of parts that are failing, and then the mechanism of helping the leg to give a good flow is not working anymore. So I'm putting a lot of effort to make sure my leg is not going to fail when I'm walking," he said. "It's not like a car, if it breaks down you can get a tow. If it breaks down, I'm not able to walk." Mohan is a PhD student in chemistry but he doesn't qualify for student medical insurance and does not have OHIP. A replacement prosthesis costs about $22,000. A program at The Ottawa Hospital will cover about $10,000, but Mohan still needs more than $11,000. On Monday night he posted a video on the crowdfunding website,
YouCaring.com
, and so far it has helped raise about $800. Mohan said he's touched by the response from people so far and he hopes he'll have a new leg by the end of the year.
Ela E Carioca
Manfredo Fest - The Colors of Latin Jazz Corcovdo - Background
Volver, volver
Concha Buika (Spain) - .
Insensatez
Charlie Byrd ft Ken Peplowski - The Colors of Latin Jazz Corcovdo - Background
Mi Unico Amor
Angeles Azules ft Bomba Stereo (Mexico/Colombia) - Como te voy a olvidar
A Summer in San Francisco
Coracao Vagabundo - The Colors of Latin Jazz Corcovdo - Background
Que bonitos Ojos Tienes
Lila Downs - La Sandunga
Rosas en el Mar
Luis Eduardo Aute - Grandes Exitos
Coracao
Karrin Allyson - The Colors of Latin Jazz Corcovdo - Background
It's Movement Time
Las Cafeteras (USA) - It's Time
Me sube la bilirrubina
Juan Luis Guerra - .