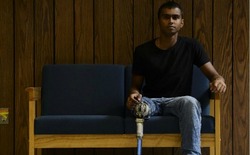 Soy Latinoamerica
Monday September 29th, 2014 with Alejandro Hernandez
Only women! Latin American women singing.
Carleton University Student Needs New Prosthetic Leg Born in Malaysia in 1990, Selvan Mohan has a missing right tibia, kneecap and ankle. Multiple surgeries were performed to save his leg without much success. At the age of 12, his leg was amputated just above his knee at University Malaya Medical Centre. Since then, he has been walking with a prosthetic leg. After completing high school, Selvan received a full scholarship to study in Canada. He finished his undergraduate degree in Biotechnology and Biochemistry in the spring of 2013 and has fast-tracked into his PhD in Chemistry. He is working in the field of Bionanotechnology and is currently researching the impact of nanoparticles to the environment with Environment Canada. He is also in the process of applying for a Permanent Residency in Canada. Despite having a prosthetic leg, Selvan is able to run and cycle on a regular basis. Since early 2014, parts of Selvan's prosthetic leg started to fail. He consulted the Rehabilitation Centre of The Ottawa Hospital and was told that he would need to replace his prosthetic leg soon. Through Dr. Nancy Dudek, David Nielen a Certified Prosthetist Orthotist gave Selvan a breakdown for his new prosthetic leg. The total cost of the leg is $21,674.87. The Assistive Devices Program covers $10,015.61. The final amount that he would have to bear will be $11,659.26 (official cost estimate with break down can be provided upon request). This cost would cover for a leg that would allow him to continue his current lifestyle. Though a better leg would be required for a more active lifestyle which he wishes to seek. Selvan, makes $26,000.00 from being a Teaching Assistant, Research Assistant and from receiving a Departmental Scholarship. He is paying international student fees which is about $22,000.00 a year. He manages a very modest lifestyle with the remainder of his income and some money from a part time tutoring job. We would like to thank you for your generous donation and for sharing his story. Know that you will make a difference however little your contribution is, Selvan, friends & family Donate here:
http://www.youcaring.com/medical-fundraiser/carleton-university-student-needs-new-prosthetic-leg/224234
Any additional proceedings toward his leg will go towards purchasing better parts and to the Terry Fox Foundation for Cancer Research. If you would like to mail a check to us, address it to- 2927 Millstream Way, Ottawa, ON. K1T 4A4, Canada.
Tanga
Machito & the Afro -Cubans (USA/Cuba) - Latin Jazz - Background
Bidi Bidi Bom Bom
Selena con Selena Gomez (Mexico/US) - Enamorada de Ti
Una Sangre
Lila Downs (Mexico/USA) - Una Sangre/One Blood
Juana Mil Ciento
Irakere (Cuba) - Latin Jazz - Background
Giant Steps
Justo Almario and Alex Acuna - Latin Jazz - Background
El Tucusito
Eliana Cuevas (Venezuela/Canada) - Espejo

La Vida es un Carnaval
Celia Cruz (Cuba/USA) - .
Bye-Ya
Jerry Gonzalez - Latin Jazz - Background
Los Aretes de la Luna
David Sanchez - Latin Jazz
Descansa Coracao
Fernanda Takai (Brazil) - Onde Brilhem Os Olhos Seus
Ainda Lembro
Marissa Monte & Ed Mota (Brazil) - .
Bandolero
Olga Tanon (Puerto Rico) - .
Debaixo dos Caracois dos Seus Cabelos
Fernanda Fernanda Takai (Brazil) - Olga TanonOnde Brilhem Os Olhos Seus