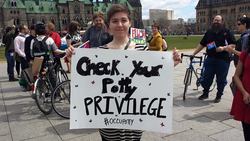 Velvet Studio
Thursday July 9th, 2015 with Luke Smith
The Depoliticization of Pride
Is Pride still political? In the most controversial episode to date the Velvet Studio wrangles in 5 Guests. A community activist, an activist with Black Lives Matter, the Chair of Ottawa Capital Pride, someone from EnQueery in Toronto, and a activist from Istanbul, Turkey. With less music and more discussion, this promises to be a heated debate!
Paddle Away
Long Range Hustle - From Seedlings to Saplings