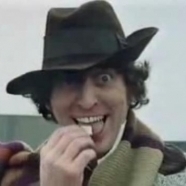 Thursday Special Blend - Geek On
Thursday November 21st, 2013 with Kiernan Mac
Geek On! Does "Doctor Who" Provide A Politically Correct Image Of British Culture?
When one thinks of a British culture, one is normally reminded of the stereotype of a culture dominated by surly-accented, banger and mash eating, Queen Mum-loving, bowler-hat wearing, football-playing islanders who enjoy sweets a bit too much. However, the British science fiction broadcast "Doctor Who", out of all television shows, may provide a more politically correct image of British culture and the British people. Relive the discussion as host Kiernan Mac, along with returning guests Simon Colverson and Chris the Whovian, delves into discussing if the television show "Doctor Who" provides a politically correct image of British culture. Are the mannerisms and habits of the "Doctor" and his companions representative of real life Brits? Does the first "Doctor" an individual watches and the nostalgia experienced watching said "Doctor" contribute to ones favorite "Doctor"? Would you like a jelly baby? Grab your jelly babies and let's find out. Only on, the "Whovember" episode of, Geek On!
Pinball Wizard
The Who - Tommy (Remastered)
I Bet You Look Good On the Dancefloor
Arctic Monkeys - Whatever People Say I Am, That's What I'm Not
Doin' My Time
The Heavy - n/a
The Hindu Times
Oasis - Heathen Chemistry