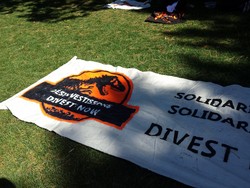 OPIRG Roots Radio
Tuesday October 13th, 2015 with DJ Haller, DJ Ashraf
You Gunna Vote? I'm Gunna Vote!
Hey everyone! DJ Haller again, burning the midnight oil to let you know what's coming up on the show for October 13th. First off, we have with us a representative from Fossil Free uOttawa to talk to us about divestment initiatives. He'll also be giving us the straight skinny (boy, it really must be late if I just wrote) on an upcoming panel here at Carleton concerning responsible investments in relation to climate change. Then, DJ Ashraf will be talking Charlatan high commander Rosa Saba. Not sure what they're going to be chatting about, but I'm sure it will be entertaining to say the least. And finally, we'll be leaving you off with a little electoral talk. We'll be bringing in GSA prez Michael Buekert to share some information with us about the voting initiatives that the GSA has taken on. If we can manage it, we'll even get him to provide a little commentary on CUSA's recent smash hit.
Thing About It
Sweatshop Union - - - -

Which Side Are You On?
Billy Bragg - - - -
TBD
TBD - - - -
CUSA
I'm Gunna Vote - - - -

The Rain
Loren Dayle - - - -

Sing Our Own Song
Buffy Sainte-Marie - - - -