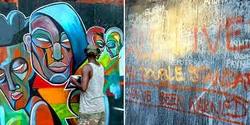 OPIRG Roots Radio
Tuesday September 29th, 2015 with DJ Haller, DJ Ashraf
Trans Lives Matter, and other stories
Welcome back to another episode of OPIRG Roots Radio. Today we'll be covering the despicable vandalism of a downtown mural memorializing transwomen of color. We'll also be touching on Grassy Narrows' lawsuit against the Ontario government and its clear cutting intent. And lastly, we'll be talking about a small country known as Eritrea that is currently displacing the third largest number of refugees in the world, and how Canada is complicit in this. We'll also be featuring some music from a local Punk concert coming up. Keep an ear out!
Better Dayz
Tupac - -
Sequimos en pie
Dead Hero - -
Vencido
Secta Suicida - -
Forget it
Chloroform - -

Beg to rise up
Chloroform - -