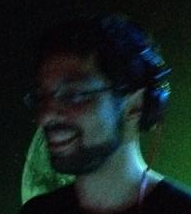 The nu Planet Rave Show
Sunday May 25th, 2014 with DJs VH3, DIEPSLOOT & KUBA MAYE
THE NU PLANET RAVE EPISODE 039
This week on Episode 039 of The Nu Planet Rave Radio Show As TEKNOBRAT will be away covering Movement 2014 in Detroit MI, USA We are very proud to have DJ VH3 aka BENNY VERANO of the Deep Blue Radio Show (Amplified Digital Records, Kaleydo Beats,
www.soundcloud.com/benny-verano
) fill in for parts 1 & 2 of Episode 039. This will a feature a guest mix by our 13th official DJ guest DIEPSLOOT from the H.E.A.T. Worship House collective as he takes us on a musical journey that emphasizes on the underground techno and house sounds of DETROIT, BERLIN, NEW YORK and other like minded discotheque scences of other parts of the world. Parts 3 & 4 will finish by a banging 2.5 hour live closing set by our resident DJ KUBA MAYE... NJOI Peace Out !!! TEKNOBRAT & KUBA MAYE
PT 1.VH3 presents:

THE NU PLANET RAVE DEEP BLUE TAKEOVER MIX (Studio Mix)

STYLES: ITALIAN TECHNO & TECH HOUSE

BROADCAST TIME: 2014-05-25TH
2:00 TO 3:15 A.M - E.D.T OTTAWA TIME
OR 6:00 TO 7:15 A.M G.M.T UNIVERSAL TIME
Prism (MiniCoolBoyz Remix)
NHB - Esagon EP - Driving Forces Digital Series

Tunel De Seda (NHB Remix)
Gabriel D'Or & Bordoy - Paladia - Over

2 AM
MiniCoolBoyz - 2 AM / Rachel's Dream / Warm Step - Amazing

The Escape
Abe Van Dam - The Escape - Quanza


Tribe
Sin Sin - Tribe EP - Audio Elite

Delta
Alberto Ruiz - Delta EP - This Is Hot Audio

Just The Beginning
Lewis Fautzi - Just The Beginning EP - Konstrukt
The Promise
DJ Infinet - Unreleased Promo - Unreleased Promo


Never Stop (Luigi Madonna Remix)
Timmo - Never Stop - Octopus
Phorme
Sasha Carassi - Backup - Phobiq

My Part Of Town
Bart Skils - Shadowprint EP - Drumcode

The Edge
Hugo Bianco - The Edge EP - Selected
Amox
Gabriel D'Or & Bordoy - Amox / Eccles - Alleanza

Dice (Manic Brothers Remix)
Mark Reeve - Dice Remixes Part 1 - Soma

Follow Your Body (Petter B Remix)
Luigi Madonna - Follow Your Body - Unrilis

Green Snorkel
Jason Fernandes - Give Me Truth / Green Snorkel - Alleanza

PT 2.DIEPSLOOT presents:

THE NU PLANET RAVE H.E.A.T WORSHIP HOUSE TAKEOVER MIX

STYLES: DETROIT & BERLIN STYLE TECHNO, DUB TECHNO,
DETROIT HOUSE, DEEP HOUSE, CHICAGO CLASSIC INSPIRED HOUSE,
TECH HOUSE, DISCO HOUSE, PROGRESSIVE HOUSE & NU DISCO.

BROADCAST TIME: 2014-05-25th
3:15 TO 4:30 A.M - E.D.T OTTAWA TIME
OR 7:15 TO 8:30 A.M G.M.T UNIVERSAL TIME
Something In the Air (Original Mix)
Maya Jane Coles - Don't Put me In Your Box EP - Hypercolour
Corvus
Nautiluss - Solstice EP - Audioculture

Vines (Kyle Hall Remix)
Cromie & Sage Caswell - Vines/Pyrex EP - Peach
Vacuum Boogie
Floating Points - Vacuum Boogie EP - Eglo Records
Moving (70's vibe mix)
Glenn Underground Ft. Jackie Green - Moving EP - Nite Life Collective
Music (Edit)
Gazeebo - Match of the Month: Spain VS. USA VOL.2 LP - Groove Democracy
The Causeway (Original Mix)
The Martinez Brothers - ISSSHHH EP - Objektivity
Hold you
Alex Niggemann - Free Promo Single - Promo
Worship (Acappella)
Chris Howland - Worship - Single - MK837
Kiss The Birds (Round Table Knights Remix)
Monkey Safari - Kiss The Birds EP - Mambo
Rave (Dirt Mix)
Head High - Rave EP - Power House
#111 05
EQD - Equalized #111 EP - Equalized
Hit the Floor (Original Mix)
DJ 3000 - Taksim EP - Bulletdodge
Early Man (DJ Richard Remix)
Renaissance Man - Early Man EP - Black Ocean
Void 23 (Carl Craig Re-Edit)
Appleblim & Ramadanman - Void 23 EP - Aus
Kadosh
Diepsloot - Kadosh EP - GodsDjs Records L.L.C.

District Of Light
Dustin Zahn - Monoliths LP - Drumcode

Naphtali
Diepsloot - Unreleased Single - Unreleased PROMO

ABSOLUTE MADNESS!!!! COMING ON STRONG AT 4:30 AM TILL 7 IN THE THE MORNING, PREPARE TO EMBARK AND A HARD RHYTHM COASTER.
KUBA MAY3, NJOY

Artist Name

Hollen Arpeus
Sawlin Niedertracht
AngelLopez The Little Grated (Johann Smog Remix)
Sciahri Mysterious Love
Tachini Aan De Bak (Original Mix)
Broombeck Hey Tom (Original Mix)
Frankyeffe, Miniminds Before
Frankyeffe, Miniminds After
Harvey McKay Hard to See (Original Mix)
Sasho Derama Wizard's Role (D-Unity Remix)
PVS Looper (Conrad Van Orton Remix)
Mutate Circle 1 (Drumcell Remix)
Farceb Frontside (HD Substance Remix) -
Johnny Kaos Chainsaw (Original Mix)
Keith Carnal Analysis -
Lampenfieber Tuner (Original Mix) -
Lampenfieber Zten (Original Mix) -
Len Faki, Roman Poncet Asua (Original Mix)
Lian July, Cloe Hey Girl (Original Mix)
Loco & Jam Platform 3 (Original Mix) -
Paul Woolford Erotic Discourse (Dense & Pika Remix) -
Pierre Grall Hack Me (Original Mix) -
P-Ben Use Package (original_mix)
Nicole Moudaber I Know Where Ive Been (Original Mix)
Nicole Moudaber Bittersweet (Original Mix)
Labbratek Concentric Spheres (Original mix)
Labbratek Inhumans On The Road To Japigia (Original mix)
Len Faki & Johannes Heil Perception
Labbratek From The Earth To The Moon (Original mix)