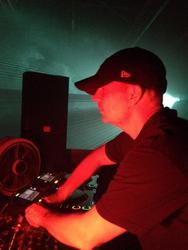 The nu Planet Rave Show
Sunday November 24th, 2013 with DJ KUBA MAYE, GREG GOW & TEKNOBRAT
THE NU PLANET RAVE EPISODE 026
First of all we would like to thank who ever donated to The Nu Planet Rave Show for CKCU 93.1 FM during our recent funding drive campaign. For Episode 026 DJ KUBA MAYE will be opening and warming things up this week. Then we have a very very special guest. One of Canada's most respected and forward thinking Underground Techno House DJ - Producer's and successful recording artist on legendary labels such as Transmat, KMS Records and his own imprint Restructured we are very very proud and honored to present to you our 6 th DJ Guest set by no other then GREG GOW from Toronto, CANADA. We exclusively recorded this set while he closed the mainroom at Guverment Nightclub on Sunday the 17th of November 2013 in the early dawn hours. DJ TEKNOBRAT will be closing the show with very futuristic sounding new release selections of dark and round shaped techno :-) NJOI !!! Peace Out. KUBA MAYE & TEKNOBRAT !!! ---------------------------------------------------- GREG GOW BIOGRAPHY Toronto-based Greg Gow has long been a leader and crowd favorite in Canada's electronic music scene. Now his international stature is growing rapidly – as a producer, DJ, promoter and label manager. Since founding his flagship record label, Restructured, in 2001, Greg has put together an outstanding team of artists from around the world and built the label into a solid success, with significant international presence and acclaim.
www.restructured.net
As an outstanding DJ, Greg currently holds down residencies at Toronto's leading electronic dance music destinations, Footwork, Guvernment Koolhaus Complex, and Comfort Zone. On the international DJ scene, Greg has: Represented Toronto at the Miami Winter Music Conference annually since 2004. Played the legendary Detroit Movement Festival on the Torino Stage in 2010. Made many well received appearances in the USA, Mexico, South America and Europe. Recently Transmat, the world-famous label of Detroit's-own Derrick May, marked its re-launch by releasing Greg's dynamic EP, The Pilgrimage. One of the featured tracks, The Bridge, has received rave reviews around the world. Greg's second Transmat EP release Twilight Soul is expected shortly. This deeper, more synth driven project features two exciting tracks, Dearborn Dreams and the headline track, Twilight Soul, which has generated considerable anticipation.
www.transmatrecords.com
As part of the 25th anniversary celebration of Detroit Techno, D25, Greg is a key player in a world tour with Derrick May and other leading Transmat artists with appearances in Miami, Detroit, Amsterdam and Berlin, among other destinations. Greg has re-launched promoting events in Toronto with partner Derrick Ramirez under the co-venture Alleys of your Mind. To date, they have brought in Derrick May, Carl Craig and Joe Claussell, with more exciting artists to come. Greg is pleased to be represented by Carl Craig's Detroit Premiere Artists, a leading international booking agency that features outstanding Detroit Techno Artists including Carl Craig, Kenny Larkin, Stacey Pullen and Kevin Saunderson.
www.detroitpremiereartists.com
----------------------------------------------- The nu Planet Rave Show is Ottawa's only and newest after hours underground techno house DJ mix show. Hosts DJ KUBA MAYE & veteran underground techno house DJ-producer TEKNOBRAT team up to bring to the airwaves of CKCU FM a non stop 5 hour mix exploring the various styles of Underground techno & house. From minimal, deep, tech and acid house to tribal, hard groove, minimal, Detroit & Berlin style techno, our mission is to radiate the airwaves with those sounds from past, present & future in a non stop continuous DJ mix format
PART 2. GREG GOW Presents:

3:30 AM @ Guvernment Toronto CANADA, on Three CDJ 2000's
and no F*&%$@!g computer.

(Recorded Live in Toronto Ontario, CANADA 2013-11-17th @ Guverment Nightclub)

STYLES: DETROIT & BERLIN STYLE TECHNO, CHORD TECHNO, 4X4 TECHNO, DEEP HOUSE, HOUSE MUSIC, TECH HOUSE, & CHICAGO TECHNO-HARDHOUSE.

100% Mixed with 3 X Pioneer CDJ 2000 Players and Pioneer DJM 900 Mixer

BROADCAST DATE: 2013-11-24th

BROADCAST TIME:
4:30 TO 5:44 A.M E.S.T OTTAWA TIME
OR 9:30 A.M TO 10:44 P.M G.M.T UNIVERSAL TIME
The Tide (Joris Voorn Edit)
Mark Fanciulli - Together EP - Rejected
Lost
Harvey Mckay - Lost EP - Drumcode

Wide Open (Len Faki DJ Edit)
DJ Hyperactive - DJ-Edits Volume 1 - Figure
World T.V
Marco Bailey - World T.V EP - MB Elektronics

Make U Move
Christian Smith & Wehbba - Passion Over Fashion 2.3 EP - Tronic

Shoreline
NHB & Pascal Nuzzo - Shoreline EP - Shape01
Mirror Dance
Afefe Iku - Mirror Dance EP - Yoruba Records
Second Life
Christian Smith & Wehbba - Passion Over Fashion 1.3 EP - Tronic
Untitled (Greg Gow Remix)
Manni - Not On EP - Pre-Release Promo - Unreleased Pre-Release Promo


Patterm 01
Franco Cinelli - Waves EP - Esperanza
Tower (Gig Mix)
Christian Smith - Omakase EP - Tronic
The Warning (Mateo Murphy Remix)
Greg Gow - The Warning EP - Restructured

On A Train Update (Christian Smith Remix)
Pig & Dan - On A Train Update EP - Elevate
Morning Mass
Manic Brothers - Praying Mantis EP - Drumcode

Cinnamon Kiss
Harvey Mckay - Cinnamon Kiss EP - Cocoon Recordings

Alive
Daft Punk - Soma Records 20 Years - Soma Classics LP Compilation - Soma Records
The Bwiti Initiate
Phase - Frames Of Reference LP - Token

PART 3. DJ TEKNOBRAT Presents:

Trans Teknobrat Express
non stop from Bunkerbliss HQ
to Montreal to Paris to
Strasbourg to Amsterdam
to Zwolle to Schipol
to Montreal to Ottawa to Toronto and
back to Bunkerbliss HQ (Studio Mix)

STYLES: DETROIT & BERLIN STYLE TECHNO, MINIMAL TECHNO, INDUSTRIAL TECHNO,
CHORD TECHNO, 4 x 4 TECHNO, 808 STYLE DETROIT ELECTRO-TECH, TECH HOUSE &
ACID HOUSE.

100% Vinyl controlled Native Instruments Traktor Scratch Digital Mix

BROADCAST DATE: 2013-11-24th

BROADCAST TIME:
5:44 TO 7:00 A.M E.S.T OTTAWA TIME
OR 10:44 A.M TO 12:00 P.M G.M.T UNIVERSAL TIME
drf 1
Daze Maxim - drf EP - Randform

Dont Let Dis Be Hapnin!!
Omar S - Nelson County EP - FXHE Records

Astronauta (Regen Remix)
Mirror_1 - Astronauta EP - Out-er

Substance (OnOff Remix)
Bodyscrub - Substance EP - Phobiq

My Sunday (Roman Lindau Remix)
Limo - My Sunday EP - Out-ER

Terminus Abrupt (Legowelt Remix)
Cosmin TRG - Terminus Abrupt (Legowelt Remix) Noise Code (Miles Remix) - 50 Weapons

Wendy (Girlfriend 44 PiaNO Mix)
Tuff City Kids - Roby Tease EP - Delsin Records

Prime Time (Original Mix)
Trikk - Midnight Sequence EP - Hypercolour

Card (Kommune1 Remix)
Trve - Krook/Card EP - Black Nite

Rope (Original Mix)
SCB - Rope EP - Hotflush Recordings

Use Package (Original Mix)
P-Ben - The Way Life's Going EP - Restructured


Crossing
Chevel - Air Is Freedom LP - Non Series

Order/Decay II
P.E.A.R.L. - Order/Decay EP - Falling Ethics

Strumpet (Original Mix)
Drumcell & Material Object - Strumpet EP - Blank Code

3.8 (Original Mix)
Slam - Astrolabe EP - Soma Records

XXIII (Original Mix)
G-23 - XXIII EP - Arts Digital

Scfls-17
Spherical Coordinates - Vector Projection EP - Token

Bad Signal
Octave - Analog Series Part 3 EP - Silent Steps

Growin (Original Mix)
Dario Zenker - Alto Fragments EP - Ilian Tape

Dominator
Hans Bouffmyhre - Where I Belong EP - Sleaze Records

The Chase (Original Mix)
Hans Bouffmyhre - Sanction / The Chase EP - Sleaze Records

Utopia
Exploit - Event Horizon LP - Mutex Recordings

Painted Clouds XIII
Borrowed Identity - Mistress 01 EP - Mistress Recordings

Wurk It
Alden Tyrell - Some House EP - Clone Jack For Daze Serie

Equanimity (Original Mix)
Arnaud Le Texier - Equanimity EP - Children Of Tomorrow