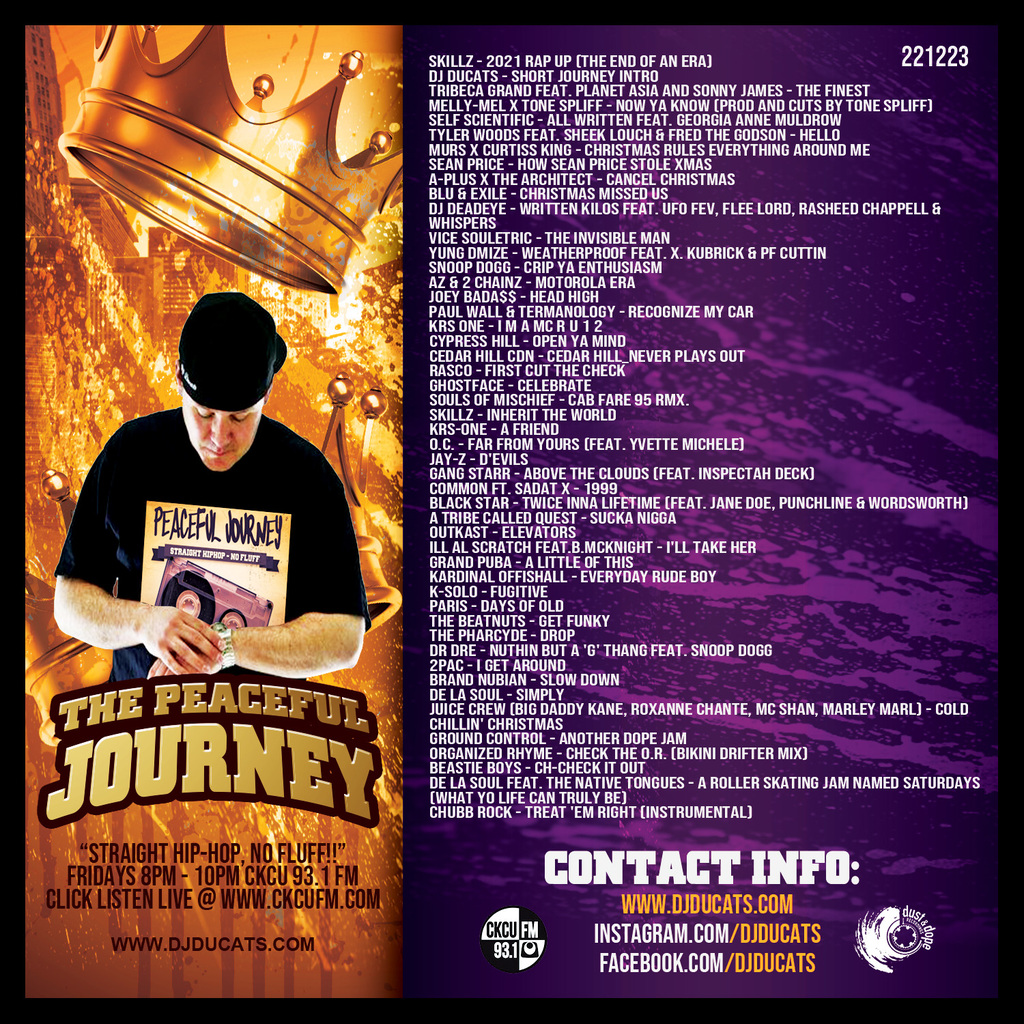 Peaceful Journey
Friday December 23rd, 2022 with Ya Boy Dennis, DJ Grusm & Dj Ducats
"Straight Hip-Hop, No Fluff!!"
A few of Dj Ducats favourite tracks from 2022, Christmas tracks and a little dash of old school. From all of us here on Peaceful Journey and CKCU, have a wonderful Christmas and holiday in general. Cheers and we'll catch you next week for the final show of the year! Happy Holidays!
2021 Rap Up (The End Of An Era)
Skillz - Single
Short Journey Intro
Dj Ducats - Single

The Finest
Tribeca Grand Feat. Planet Asia and Sonny James - Single
Now Ya Know (Prod And Cuts By Tone Spliff)
Melly-Mel x Tone Spliff - Single
All Written feat. Georgia Anne Muldrow
Self Scientific - Single
Hello
Tyler Woods feat. Sheek Louch & Fred The Godson - Single
Christmas Rules Everything Around Me
Murs X Curtiss King - Single
How Sean Price Stole Xmas
Sean Price - Single
Cancel Christmas
A-Plus x The Architect - Single
Christmas Missed Us
Blu & Exile - Single
Written Kilos feat. UFO Fev, Flee Lord, Rasheed Chappell & Whispers
DJ Deadeye - Single
The Invisible Man
Vice Souletric - Single
Weatherproof feat. X. Kubrick & PF Cuttin
Yung DMIZE - Single
Crip Ya Enthusiasm
Snoop Dogg - Single
Motorola Era
AZ & 2 Chainz - Single
Head High
Joey Bada$$ - Single
Recognize My Car
Paul Wall & Termanology - Single
I M A MC R U 1 2
Krs One - Single
Open Ya Mind
Cypress Hill - Single
Never Plays Out
Cedar Hill - Single

First Cut The Check
Rasco - Single
Celebrate
Ghostface - Single
Cab Fare 95 Rmx.
Souls Of Mischief - Single
Inherit The World
Skillz - Single
A Friend
KRS-ONE - Single
Far From Yours (feat. Yvette Michele)
O.C. - Single
D'evils
Jay-Z - Single
Above The Clouds (feat. Inspectah Deck)
Gang Starr - Single
1999
Common Ft. Sadat X - Single
Twice Inna Lifetime (feat. Jane Doe, Punchline & Wordsworth)
Black Star - Single
Sucka Nigga
A Tribe Called Quest - Single
Elevators
Outkast - Single
I'll take Her
Ill Al Scratch feat.B.Mcknight - Single
A Little Of This
Grand Puba - Single
Everyday Rude Boy
Kardinal Offishall - Single

Fugitive
K-Solo - Single
Days of Old
Paris - Single
Get Funky
The Beatnuts - Single
Drop
The Pharcyde - Single
Nuthin But A 'G' Thang feat. Snoop Dogg
Dr Dre - Single
I Get Around
2pac - Single
Slow Down
Brand Nubian - Single
Simply
De La Soul - Single
Cold Chillin' Christmas
Juice Crew (Big Daddy Kane, Roxanne Chante, Mc Shan, Marley Marl) - Single
Another Dope Jam
Ground Control - Single

Check The O.R. (Bikini Drifter Mix)
Organized Rhyme - Single

Ch-Check It Out
Beastie Boys - Single
A Roller Skating Jam Named Saturdays (What Yo Life Can Truly Be)
De La Soul feat. The Native Tongues - Single
Treat 'Em Right (Instrumental)
Chubb Rock - Single