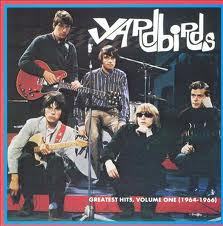 Cool Cuts
Thursday November 26th, 2015 with Chris Sharp
U.K. prog,pop and hard rock from the 60's and 70's tonight.
Tonight's show features all U.K. music from the 60's and 70's with features on vocalists/musicians/bandleaders David Terry(Elmer Gantry) and Keith Relf.
The show opens with some projects that U.K. singer,musician, and bandleader David Terry was involved in from the late 60's to the early 80's.
Intro/Mother Writes
Elmer Gantry's Velvet Opera - Elmer Gantry's Velvet Opera(1967)
I Was Cool
same - same
Reaction Of A Young Man
same - same
Tomorrow's Another Day
Stretch - Elastique(1975)
Can't Get Enough
Stretch - You Can't Beat Your Brain For Entertainment(1976)
Psychobabble
The Alan Parsons Project - Eye In The Sky(1982)
Next set consists of various early prog bands out of the U.K.
Afterwards
Van Der Graaf Generator - The Aerosol Grey Machine(1969)
How-Hi-the-Li
Family - Family Entertainment(1968)
Peace of Mind
Rare Bird - Born Again(1974)
Hurry On Sundown
Hawkwind - Hawkwind(1970)
Vocalist,musician and bandleader Keith Relf was involved in some important projects before his death by electrocution in 1976 at the age of 33.
Shapes of Things
The Yardbirds - Greatest Hits Vol 1(1986)
Island
Renaissance - Renaissance(1969)
Buzzard
Armageddon - Armageddon(1975)
Next up: early 70's U.K. hard rock bands seldom heard in North America.
Putting On The Flesh
Bedlam - Bedlam(1973)
Speed Of Light
Spontaneous Combustion - Spontaneous Combustion(1972)
A Friend You Know But Never See
Mighty Baby - Mighty Baby(1969)
Drowned My Life In Fear
Leafhound - Growers Of Mushrooms(1970)
Taken Alive
Hard Stuff - Bulletproof(1972)
We finish off tonight's show with some mainstream U.K. acts.
Heart To Hang Onto
Pete Townsend/Ronnie Lane - Rough Mix(1977)
Maybe I'm Amazed
The Faces - Long Player(1971)
Don't Want You No More
The Spencer Davis Group - With Their New Faces On(1968)
O Lucky Man!
Alan Price - O Lucky Man!(1970)
Thank you for listening.Next show broadcasts Dec 10.