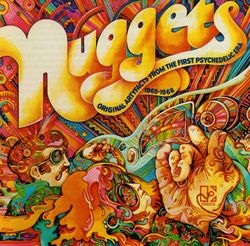 Cool Cuts
Thursday August 20th, 2015 with Chris Sharp
Summer psychedelic freak-out!
Tonight's show features a mix of American and British psychedelic bands.
We open with some classic British psych.
Dream Starts
Elmer Gantry's Velvet Opera - Elmer Gantry's Velvet Opera(1967/2010)
Yours For At Least 24
Skip Bifferty - Skip Bifferty(1968)
The Open Ground
Pussy - Pussy Plays(1969/2001)
My Friend Jack
The Smoke - It's Smoke Time(1967/2006)
Making Time
The Creation - How Does It Feel To Feel(1967/1990)
Next up we have a mix of American psych bands,the first 3 of which hailed from Texas.
Stoned Age Man
Joseph - Stoned Age Man(1970/2010)
Smell of Incense
Southwest F.O.B. - Smell of Incense(1968/2006)
Jessica
Endle St Cloud - Thank You Very Much(1968/1988)
Psyche Soap
The Electric Flag - Original Soundtrack:The Trip(1967)
Dr. of Philosophy
C.A. Quintet - Trip Thru Hell(1969/2010)
This World(Is Closing In On Me)
Chris Carpenter - VA:A Heavy Dose of Lyte Psych(1996)
Machines
Lothar And The Hand People - This Is It,Machines(1991)
Open My Eyes
Nazz - Nazz(1969)
More Brit psych is up next.Crank up the flanging and compression for full psychedelic effect.
14 Hour Technicolour Dream
The Syn - VA:Nuggets Vol 2(2001)
Granny Takes a Trip
Purple Gang - VA:Acid Drops,Spacedust & Flying Saucers(2001)
Children of The Sun
The Misunderstood - Before The Dream Faded(1968/1991)
Father's Name was Dad
Fire - VA:Nuggets Vol 2(2001)
Pictures of Matchstick Men
Status Quo - The Very Best of Status Quo(1994)
I Can Hear The Grass Grow
The Move - The Greatest Hits(1972)
A few Northern California psych bands are up next.
Live
The Merry Go Round - The Merry Go Round(1967/2010)
What Would Life Be Without It
T.I.M.E. - T.I.M.E.(1969/1996)
The Lemonade Kid
Kak - Kak-ola(1968/1999)
Hearts To Cry
Frumious Bandersnatch - VA:San Francisco Nuggets(2007)
Next we have a few post psychedelic Brit bands that were part of the Ladbroke Grove scene.
House Without Windows
Mighty Baby - Mighty Baby(1969/1994)
Evening Over Rooftops
Edgar Broughton Band - Edgar Broughton Band(1971)
Assault & Battery pt 1
Hawkwind - Warrior On The Edge Of Time(1974)
We finish things off with some Los Angeles based psych era bands.
Black Roses
Clear Light - Clear Light(1967)
The Trip
Kim Fowley - VA:Impossibe But True-The Kim Fowley Story(2003)
Nickelodeon Music
The Family Tree - Miss Butters(1968/2007)
Until The Poorest of People Have Money To Spend
The West Coast Pop Art Experimental Band - A Child's Guide To Good & Evil(1968/2001)
Don't Blow Your Mind
The Spiders - VA:Back From The Grave(1993)
Flower Punk
Frank Zappa - We're Only In It For The Money(1968)
The Red Telephone
Love - Forever Changes(1968)
Thank you for listening.Next show broadcasts Sept. 3.