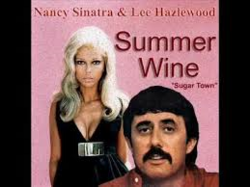 Cool Cuts
Thursday August 6th, 2015 with Chris Sharp
Music for summer highlighting travel,activities and the fires in Western Canada.
A show celebrating summer and summer activities in a blues rock kind of way.
We open the show with some tracks that highlight the problems of heat and dryness in the western part of Canada.Fire and smoke has been a problem from the west coast to Manitoba this year.
Summer's On Fire
Julie Felix - Clotho's Web(1972)
Flames
Elmer Gantry's Velvet Opera - Elmer Gantry's Velvet Opera(1967/2010)
Brushfire
Flamin' Groovies - Supersnazz(1969)
Into The Fire
Deep Purple - Deep Purple In Rock(1970)
Firewater
Titanic - Titanic(1970)
Next we highlight the enjoyment of nature.A trip to the mountains,camping and a swim are activities that many partake of in summer.
Summer Wine
Nancy Sinatra & Lee Hazlewood - Greatest Hits(1988)
Lover's Holiday
Peggy Scott & Jo Jo Benson - Soul Shake(1969)
Tent
Bonzo Dog Band - Keynsham(1969)
High On A Mountain
Andwellas Dream - Love and Poetry(1969)
Peaceful
Helen Reddy - I Am Woman(1972)
Sad Road To The Sea
Leafhound - Growers of Mushrooms(1971/2006)
Swim
Penny Arkade - Not The Freeze(2004)
Heat of The Summer
Horse - Horse(1970/2012)
The next 2 sets consist of possible destinations.A trip to the Rock and Roll Hall of Fame in Cleveland would be a sentimental journey for some.
Sentimental Journey
Dinah Shore - Dinah,Yes Indeed!(1958)
Rock 'n' Roll Hall of Fame
Mahogany Rush - What's Next(1980)

Cleveland, Ohio
Granicus - Granicus(1973/2009)
Tulane
Steve Gibbons Band - Rollin' On(1977)
The Road To Cairo
David Ackles - David Ackles(1968)
More destinations-you may want to avoid Damascus(a little dangerous) in this summer's itinerary and Alaska seems to be warmer then usual this year.
Going To Damascus
Carl Oglesby - Going To Damascus(1971)
Galveston
Glen Campbell - Galveston(1969)
Greenwood,Mississippi
Travis Wammack - Not For Sale(1975)
Alaska
Cactus - Restrictions(1971)
We finish with some modes of transportation and some rain to douse those fires out west..
Trains,Boats and Automobiles
Wimple Winch - Tales From The Sinking Ship,1964-68(2009)
Flying
Long John Baldry - It Ain't Easy(1971)

Flyin' So High
Rising Sons - Rising Sons(1992)
The Motorcycle Song
Arlo Guthrie - Alice's Restaurant(1967)
I Walk On Gilded Splinters
Johnny Jenkins - Ton-Ton Macoute!(1970)
Summer Rain
Al Wilson - Searching For The Dolphins(1968)
Thank you for listening.Next show broadcasts August 20.