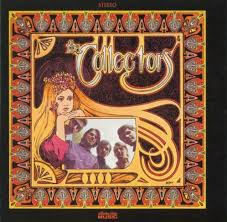 Cool Cuts
Thursday March 19th, 2015 with Chris Sharp
Musicians and bands that were native to or were based in British Columbia in the 60's and 70's
Having returned from my trip to Vancouver Island thought we'd hear some music with a British Columbia connection tonight.
Claire Lawrence was a multi instrumentalist and a founding member of the bands in the opening set.He went on to a career in radio and making television soundtracks.
Things I Remember
The Collectors - Grass and Wild Strawberries(1968)

Don't Turn Away(From Me)
The Collectors - Grass and Wild Strawberries(1968)

Chain Train
Chilliwack - Chilliwack(1970)

Ridiin'
Chilliwack - Chilliwack(1971

Flying
The Hometown Band - Flying(1976)

Peter and Lou
Valdy and The Hometown Band - Valdy and The Hometown Band(1976)

Quebec born keyboardist Robbie King worked with American Bobby Taylor in Detroit (with Motown) and Vancouver,he was also a member of Skylark(with David Foster),The Hometown Ban d and worked sessions for many including Jerry Doucette and the Incredible Bongo Band project.Comedian Tommy Chong was a member of the Vancouvers,cowriting "Does your Mama Know About Me".
Does Your Mama Know About Me
Bobby Taylor and The Vancouvers - VA:Made In Canada(1990)

How Long Has That Evening train Been Gone
Bobby Taylor and The Vancouvers - Bobby taylor:Motown Anthology(2006)

Dave
Cheech and Chong - Cheech and Chong(1972)

Wildflower
Skylark - VA:Super Hits of The 70's

Don't Bug Me
Cheech and Chong - Los Cochinos(1973)

Down The Road
Doucette - Mama Let Him Play(1977)

Apache
Michael Viner's Incredible Bongo Band - Bongo Rock(1973)

Chicago guitarist Tom Lavin helped Prism and Powder Blues to sales success in the late 70's.Vancouver's Trooper are popular on the Canadian summer fair circuit and U.K. born Nick Gilder had some big successes in the late 70's.
Hear That Guitar Ring
The Powder Blues - Uncut(1979)

Open Soul Surgery
Prism - Prism(1977)

Love of My Life
Trooper - Trooper(1975)

Here Comes The Night
Nick Gilder - City Nights(1978)

Short Distance,Long Journey
Sweeney Todd - Sweeney Todd(1975

Vancouver guitarist Paul Rudolph was involved in several projects in the U.K. underground rock scene.He also worked with Hawkwind and Brian Eno among others.He now runs a bike shop in B.C.
First Line(Even The Row)
The Deviants - the Deviants 3(1969)
Ten Thousand Words In A Cardboard Box
Twink - Think Pink(1970)
Heavenly Man
Pink Fairies - Never Never Land(1971)
Pigs of Uranus
Pink Fairies - What A Bunch of Sweeties(1972)
Ejection
Robert Calvert - Captain Lougheed and The Starfighters(1974)
The Lay of The Surfers
Robert Calvert - Lucky Leif and The Longships(1975)
The late U.K. blues vocalist Long John Baldry moved to Vancouver in the late 70's and became a Canadian citizen recording several excellent lp's in the process.
It Ain't Easy
Long John Baldry - It Ain't Easy(1971)

Baldry's Out!
Long John Baldry - Baldry's Out!(1979)

Love Me Two Times
Long John Baldry - Long John Baldry(1980)

Rock With The Best
Long John Baldry - Rock With the Best(1982)

Thank you for listening.Next show broadcasts April 2.