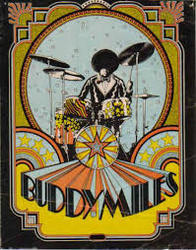 Cool Cuts
Thursday December 11th, 2014 with Chris Sharp
Drummers of the 60's and 70's(5 drummers:Buddy Miles,Aynsley Dunbar,Cozy Powell,John "Twink" Alder and Keef Hartley)
Tonight's show:Drummers of the 60's and 70's are featured,bands they were part of,bands they led and solo projects.We feature the music of 5 drummers tonight-Buddy Miles,Aynsley Dunbar,John "Twink" Alder,Cozy Powell and Keef Hartley.
Keef Hartley drummed with Rory Storm & The Hurricanes(replacing Richard Starkey),The Artwoods, and John Mayall's Bluesbreakers before recording several solo lp's and then forming Dog Soldier in 1975.
One More Heartache
The Artwoods - Art Gallery(1966/2007)
Leave It 'til Morning
Keef Hartley Band - Halfbreed(1969)
Believe In You
Keef Hartley Band - The Battle of The North West Six(1969)
Pillar To Post
Dog Soldier - Dog Soldier(1975)
John "Twink" Alder was involved in the recording of several important but short lived British psychedelic projects,co-writing some tracks and singing lead vocals(sometimes) and of course drumming.
10,000 Words In A Cardboard Box
Aquarian Age - VA:Nuggets 2-The British Empire And Beyond(1993)
My White Bicycle
Tomorrow - Tomorrow(1968)
She Says Good Morning
The Pretty Things - S.F. Sorrow(1968/1975)
Rock and Roll The Joint
Twink - Think Pink(1970)
Do It
Pink Fairies - Never Neverland(1971/2002)
U.K. born Cozy Powell played drums in several hard rock bands-he played with Rainbow for 5 years and later hooked up with Whitesnake in the late 80's.
Gravy Booby Jam
Ace Kefford Stand - VA:Acid Drops,Spacedust & Flying Saucers(2001)
I've Been Used
Jeff Beck Group - Rough and Ready(1971)
Dance With The Devil
Cozy Powell - 7 inch single(1973)
Man On The Silver Mountain
Rainbow - Rainbow(1975)
U.K. born Aynsley Dunbar was fired by John Mayall(forming the Retaliation) before going on to record with Frank Zappa in the early 70's.Dunbar was a member of "Journey" for their first 4 lp's(pre Steve Perry)
Rubberduck
John Mayall & The Bluesbreakers - A Hard Road-extended(1967/2003))
Watch'n Chain
The Aynsley Dunbar Retaliation - The Aynsley Dunbar Retaliation(1969)
Transylvania Boogie
Frank Zappa - Chunga's Revenge(1971)
Here We Are
Journey - Next(1977)
Nebraska born Buddy Miles toured with several soul revues before going solo and working with Jimi Hendrix.Miles released a series of excellent soul/rock lp's in the early 70's.
69 Freedom Special
Buddy Miles Express - Electric Church(1969)
Changes
Jimi Hendrix - Band of Gypsys(1970)
Joe Tex/Take It Off Him and Put It On Me
Buddy Miles - Live(1971)
Don't Keep Me Wondering/Midnight Rider
Buddy Miles - A Message To The People(1971)
Dreams
Buddy Miles - Them Changes(1971)
United Nations Stomp
Buddy Miles Express - Booger Bear(1973)
Thank you for listening.Next show broadcasts Dec.25 and will feature music and spoken word from the 60's and 70's focusing on Christmas.Merry Christmas everyone!