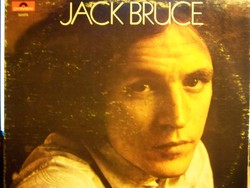 Cool Cuts
Thursday November 13th, 2014 with Chris Sharp
A Tribute to Jack Bruce
Celebrating the musical contributions of bassist/singer/songwriter/producer and Scotsman Jack Bruce(1943-2014) who passed away Oct 25 of this year.The second half of the show explores the music of musicians that Jack Bruce worked with in the blues rock genre.Thank you to all who made this funding drive a success with your generous donations.
Jack Bruce worked with Graham Bond(2 lp's) and Eric Clapton(by way of John Mayall)early in his career before recording with Manfred Mann and forming Cream with Clapton and Ginger Baker in 1966.He co-wrote many of Cream's best songs with poet Pete Brown.
Long Legged Baby
Graham Bond - Solid Bond(1970)
I Want To Know
Eric Clapton & The Powerhouse - History of Eric Clapton(1972)
Pretty Flamingo
Manfred Mann - The Best of Manfred Mann(1974)
Take It Back
Cream - Disraeli Gears(1967)
Deserted Cities of The Heart
Cream - Wheels of Fire(1968)
After Cream's breakup Bruce embarked immediately on a solo career,releasing a series of highly respected lp's in jazz,rock,blues and pop.We stick to the blues rock side of things in the next set of solo work.
Never Tell Your Mother She's Out Of Tune
Jack Bruce - Songs For a Tailor(1969)
Theme For An Imaginary Western
Jack Bruce - Songs For A Tailor(1969)
You Burned The Tables On Me
Jack Bruce - Harmony Row(1971)
Keep It Down
Jack Bruce - Out Of The Storm(1974)
Analogous to his solo career Bruce joined with other high profile musicians to augment his income from declining record sales in the 70's and early 80's.
Pollution Woman
West,Bruce & Laing - Why Dontcha(1972)
Mad House
Jack Bruce - How's Tricks(1977)
Facelift 318
Jack Bruce & Friends - I've Always Wanted To Do This(1980)
What It Is
Robin Trower/Jack Bruce/Bill Lordan - B.L.T.(1981)
For the second half of the show we'll hear selections by musicians that Bruce worked with at one point or another in his career.
Jon Hiseman(drums) played with Graham Bond and John Mayall,he then formed Colosseum with Dick Heckstall-Smith(sax).These 2 musicians worked with Bruce throughout his career.
I Started Walking
John Mayall's Bluesbreakers - Bare Wires(1967)
Walking In The Park
Colosseum - Those Who Are About To Die Salute You(1969)
Rope Ladder To The Moon
Colosseum - The Grass Is Greener(1970)
Baker and Bruce had a highly volatile relationship(fighting on stage at times)Baker also worked with Graham Bond(Bruce and Baker were originally in Bond's band).Baker went on to make a pile of interesting music(especially in Africa) that nobody bought before joining up with the Gurvitz brothers for 3 lp's.Lyricist Pete Brown recorded some excellent jazz rock in the early 70's.
Let Me Ride
Ginger Baker's Air Force - Air Force 2(1970)
Time
Baker Gurvitz Army - Elysian Encounter(1975)
Aeroplane Head Woman
Pete Brown & Piblokto! - Thousands On A Raft(1970)
If They Could See Me Now Pt 2
Pete Brown & Piblokto! - THousands On A Raft(1970)
We finish with some blues rock heavyweights(in West's case literally) that recorded with Jack Bruce.Trower released a series of excellent lp's in the 70's before recording 2 fine lp's with Bruce in the early 80's.Leslie West formed Mountain after his solo debut and also released a series of excellent solo lp's in the 70's.Manfred Mann's Earth Band released a series of fine commercial prog lp's from the early 70's into the mid 80's.
Better Watch Out
Leslie West - Mountain(1969)
Little Bit Of Love
Leslie West - The Great Fatsby(1975)
Long Misty Days
Robin Trower - Long Misty Days(1976)
Drowning On Dry Land/Fish Soup
Manfred Mann's Earth Band - Watch(1977)
Buddah
Manfred Mann's Earth Band - Messin'(1973)
Thank you for listening.Next show broadcasts Nov. 27.