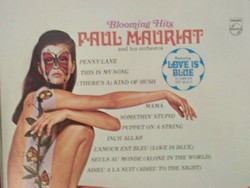 Cool Cuts
Thursday July 10th, 2014 with Chris Sharp
Second Annual All Instrumental Show
Instrumental tracks-blues,jazz, pop and soul from the 60's and 70's.
We open the show with some tracks featured in movies(The Babe Ruth and Ferrante tracks are cover versions)).
Midnight Cowboy
Ferrante & Teicher - VA:Super Hits of The 70's Vol 16(1993)
The Good The Bad And the Ugly(main title)
Ennio Morricone - The Good The Bad and The Ugly:Original Motion Picture Soundtrack(1967)
A Fistful of Dollars
Babe Ruth - Babe Ruth(1975)
Jack The Ripper
Link Wray and His Raymen - Desperado:original Soundtrack(1996)
Droge CX 9
The Vampires' Sound Incorporation - Vampyros Lesbos:Sexadelic Dance Party(1971/1995)
Next up:60's pop instrumentals.Most of these(the last 4) feature L.A.'s "Wrecking Crew"-a loose aggregation of session players including Hal Blaine,Glen Campbell,Jerry Cole and Carol Kaye among others.
The Horse
Cliff Nobles - VA:Rock Instrumental Classics Vol 4(1984)
Love Is Blue
Paul Mauriat and his Orchestra - Blooming Hits(1967)
Martian Surf
Jerry Cole and his Spacemen - Surf Age(1964/2002)
Down,Down and Gone
The Animated Egg - Studio 102 Essentials(2008)
A Taste of Honey
Herb Albert's Tijuana Brass - Whipped Cream and Other Delights(1965)
Tijuana Taxi
Herb Albert's Tijuana Brass - 40 Greatest(1977)
Now we feature some bluesy r'n'b-a staple of playing the "Chitlin Circuit".This set also forms a pretty good dinner.
Chitlins Con Carne
Jimmy Dawkins Band - Blisterstring(1976)
Green Onions
Booker T & The MG's - VA:41 original Hits From The Soundtrack of American Graffiti(1973)
Red Hot Chicken
Wet Willie - Wet Willie 2(1972)
Jazz instrumentals-we move through the pureness of Coltrane,Brubeck's college hipster hit,Crimson's angry fusion and Canadian Jacob's smooth jazz-pop
Giant Steps
John Coltrane - Giant Steps(1960/1991)
Take Five
Dave Brubeck Quartet - Time Out featuring Take Five(1959)
Red
King Crimson - Red(1974)
Cobra
Dale Jacobs - Cobra(1978)

And now some British hard rock and a silly fusion hit from out of the Netherlands.
Rupert's Travels
Gun - Gun(1968)
Collibosher
The Small Faces - 20 Greatest Hits(1991)
The Rock
Atomic Rooster - In Hearing Of...(1971)
Whole Lotta Love
CCS - CCS(1970/2000)
Hocus Pocus
Focus - Dutch Masters(1975)
Soul instrumental hits will close tonight's show-these were major dance tracks of their time.
Cissy Strut
The Meters - Funkify Your Life:The Meters Anthology(1995)
Soulful Strut
Young-Holt Trio(Unlimited) - VA:Rock Instrumental Classics(1994)
Whittier Blvd.
Thee Midniters - VA:Grandson of Frat Rock! Vol 3(1994)
Soul Finger
The Bar-kays - VA:Rock Instrumental Classics(1994)
Memphis Soul Stew
King Curtis - Live At The Fillmore West(1971)
Thank you for listening.Next show broadcasts July 24.