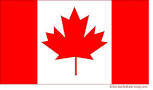 Cool Cuts
Thursday June 26th, 2014 with Chris Sharp
Happy Canada Day!
Cool Cuts' Third Annual Canada Day Show.All Canadian music from the 60's and 70's from all over Canada.Happy Canada Day!
We open with a set of music from the eastern side of Canada-starting in Ontario through Montreal and ending in Nova Scotia
Born To Be Wild
Mars Bonfire - Mars Bonfire(1968)

Goodbye Baby
Jack Scott - The Best of Jack Scott(1957-60)

Goin' Goin' Gone
Colleen Peterson - Takin' My Boots Off(1978)

1-2-5
The Haunted - The Haunted(1967)

Tell Me Why You Like Roosevelt
Jesse Winchester - Learn To Love It(1974)

Yellow Man
The Pepper Tree - You're My People(1971)

Next up:Winnipeg's Randy Bachman led several bands from 1967-1981.
Heygoode Hardy
The Guess Who - The Staccatos,the Guess Who/A Wild Pair(1967)

Another Way Out
Brave Belt - Bachman,Turner,Bachman as Brave Belt(1972)

Take It Like A Man
Bachman-Turner Overdrive - Best of BTO(1976)

Old Fashioned
Ironhorse - Ironhorse(1979)

Mainstreet U.S.A.
Union - On Strike(1981)

Born in Italy but raised in Toronto,Domenic Troiano led several bands with varying success before setting out on a solo career.
Love-itis
Mandala - Soul Crusade(1968)

Cross Country Man
Bush - Bush(1971)

Hairy Hypochondriac
James Gang - Straight Shooter(1972)

When The Band Was Singin' "Shakin' All Over"
The Guess Who - The Greatest of The Guess Who(1977)

Winnipeg's Neil Merryweather led several bands(centered in The L.A. area) with varying success.
Feeling of Freedom
Merryweather - Merryweather(1969)

Walking Shoes
Ivar Avenue Reunion - Ivar Avenue Reunion(1970)

If I Were You
Vacuum Cleaner - Vacuum Cleaner(1971)

C'mon Everybody
Heavy Cruiser - Heavy Cruiser(1972)

Don't Stop Now
Heavy Cruiser - Heavy Cruiser(1972)

Hollywood Blvd.
Neil Merryweather - Space Rangers(1974)

Eight Miles High
Neil Merryweather - Space Rangers(1974)

Next up:Bands that were based in Vancouver will next be heard.
Sheep On The Hillside
The Collectors - Grass and Wild Strawberries(1968)

Train's A Comin' Back
Chilliwack - Rockerbox(1975)

General Hand Grenade
Trooper - Trooper(1975)

Where Evil Grows
The Poppy Family - Poppy Seeds(1971)

Roxy Roller
Sweeney Todd - VA:K-tel Presents Hit Machine(1976)

You Really Rock Me
NickGilder - Frequency(1980)

We finish our Canada Day show with some blues and r'n'b out of Ontario.
Corrina
King Bisquit Boy with Crowbar - Official Music(1971)

Sitting On A Poor Man's Throne
Copperpenny - VA:Made In Canada Vol 2(1990)

Happy Canada Day!Keep safe and have a great time-no drinking and driving-use public transit.Thank you for listening.Next show broadcasts July 10.