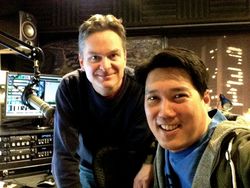 Swing Is In The Air
Sunday March 27th, 2016 with Peter Liu & Scott Poll
Spotlight on Canadian jazz vocalists Sharada Banman & Alex Pangman
Happy Easter, everyone! Today, we have a Canadian heavy program, where Peter features two outstanding Canadian jazz vocalists, Sharada Banman (Montreal), and Alex Pangman (Toronto), with tracks from their most recent albums. Scott mixes up the jazz instrumentals with a dazzling selection of Canadian and American jazz greats.
Take A Chance
Sharada Banman - The Song Has Changed

Shadow in the Wind
Sharada Banman - The Song Has Changed

Rockin' Chair
Bill Charlap - Stardust
It Ain't Necessarily So
Buddy DeFranco & Oscar Peterson - Oscar Peterson Plays George Gershwin

Sometimes I'm Happy
Sharada Banman - The Song Has Changed

The Song Has Changed
Sharada Banman - The Song Has Changed

Willow Weep For Me
Zoot Sims - The Best of Zoot Sims
She Rote
Eddie Daniels - To Bird With Love
Fit as a Fiddle
Alex Pangman - New

It's Never Enough
Alex Pangman - New

What Is This Thing Called Love?
Gerry Mulligan - Gerry Mulligan Meets Ben Webster
Sweet Lorraine
Jeff Hamilton Trio - Dynavibes Featuring Frits Landesbergen
When I Get Low I Get High
Alex Pangman - New

Who-oo? You-oo! That's Who!
Alex Pangman - New

But Not For Me
Chet Baker - Chet Baker Sings