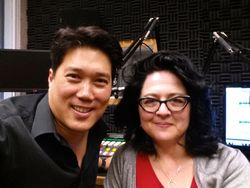 Swing Is In The Air
Sunday February 7th, 2016 with Peter Liu & Scott Poll
Interview with jazz vocalist Susie Arioli
For this program, we are fortunate to feature an interview with Susie Arioli, a well known Canadian jazz vocalist based in Montreal. She shares her thoughts and perspectives about jazz and her music, and we play tracks from Susie's recently released album "Spring". Peter and Scott also share their usual blend of some of their favourite vocal and instrumental jazz tunes, for your listening pleasure.
Them There Eyes
Rob McConnell - The Rob McConnell Jive 5

Nature Boy
Nature Boy - Moe-Mentum Quintet

Mean To Me
Susie Arioli - Spring


Spring
Susie Arioli - Spring


Someone Else
Susie Arioli - Spring


Loverboy
Susie Arioli - Spring


After You've Gone
Susie Arioli - Spring


I've Never Been In Love Before
Guido Basso - Guido Basso Frank Collett Andy Simpkins Terry Clarke

Avila And Tequila
Gordon Fleming - According to Gordie

Swinging On A Star
Oscar Peterson Trio - The Verve Story 1944-1994