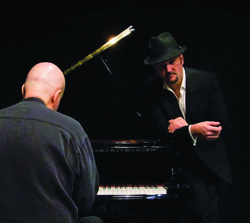 Swing Is In The Air
Sunday September 7th, 2014 with Karen Oxorn
A Visit With Steve Berndt Live In-Studio
Please join me for Swing Is In The Air when I welcome Ottawa musician Steve Berndt in the CKCU studio. Steve has been an active member of the local jazz scene as well as working in other musical genres, and will talk about his various project around town. We'll feature some tracks from a few of his CDs and talk about some of his musical projects and collaborators. Following that, I'll play some more tracks by some of the artists who'll be performing in this year's edition of Merrickville's Jazz Fest which takes place this October 16 to 19.
Mona Lisa
Steve Berndt & Brian Browne - All Over Again

Déjà Vu
Steve Berndt & Brian Browne - Déjà Vu

The Moment
Steve Berndt & Brian Browne - All Over Again

The Very Thought Of You
Steve Berndt & Brian Browne - Déjà Vu

You're Just Too Marvelous
Oscar Peterson - Travelin' Light/Mercer

Moon River
Art Blakey - Buhaina's Delight
Song For My Father
Quarteto Latino - Demo

Beautiful Love
Lee Anne Frederickson Quartet - Demo

Imaginary Squirrels
Ralph Hopper - Imaginary Squirrels


Run That By Me
Tom McMahon Trio - Demo

Down By The Riverside
Peter Woods & Brian Browne - Honest Company

Autumn Leaves/The Last Leaf
Grace Hrabi - Afraid of Heights

Moon and Sand
Peter Liu/Bamboo Groove - Bamboo Groove


The Long and Winding Road
Peter Woods & Brian Browne - Honest Company

TBD
Steve Berndt/Jivewires - Blues 101