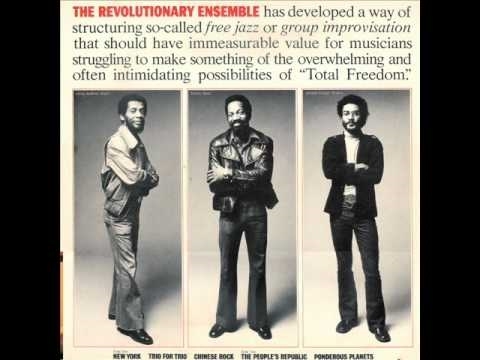 This Island Earth
Sunday May 7th, 2017 with Rob Bitschofsky
Planet hopping on a soggy Sunday
Will spring ever come?
Watusi Fever
Dem Juju Poets - Single
El Oro de la Tolita (Feat. Taribo)
Thornato - Bennu

Quick as White (Clap! Clap! Remix)
Kasai Allstars/Clap! Clap! - Félicité (Remixes)

Flowers For Lions
Dem Juju Poets - Liberated Thoughts

At the Jubilee Gardens
Dem Juju Poets - Liberated Thoughts

Voodoo Jazz
Dem Juju Poets - Single

Welcome to Vynologie! It's my new feature, wherein I'll slap a couple of tracks in from the vast and very cool vinyl library here at CKCU's superterranean global HQ. Today, some freaky 70s free jazz and a little french gypsy jazz. Groovy!
The People's Republic
The Revolutionary Ensemble - The People's Republic
After You've Gone
Django Reinhardt - Djangologie 2
La Bamba
Quetzal - The Eternal Getdown

El Rayo-X
David Lindley - El Rayo-X
The Great Woggie
Dennis Alcapone - Soul to Soul DJ's Choice
Ojo Abameta
The Shaolin Afronauts - Follow the Path
On to an atmospheric North African set of music brought to us by bassist Bill Laswell. We'll hear the first cut off of the new live album by the Master Musicians of Jajouka along with his band Material. Tune in to This Island Earth on the Victoria Day long weekend show to hear the whole thing with Peter B. Before that, a song from Laswell's 2016 gnawa set with Maâlem Mokhtar Gania and one of my favorite tracks from Laswell's wife Gigi, from her 2003 record Illuminated Audio.
Tew Ante Sew
Gigi - Illuminated Audio
Sidi Fkih Shamharouch
Maâlem Mokhtar Gania & Bill Laswell - Tagnawwit - Holy Black Gnawa Trance
Dancing From the Heart
The Master Musicians of Jajouka led by Bachir Attar with Bill Laswell and Material - Apocalypse LIve

Moanin'
Tony Allen - A Tribute to Art Blakey and the Jazz Messengers

Rooh (The Soul)
Ahmed Abdul-Malik - East Meets West
Rama Rama
Alice Coltrane - World Spirituality Classics 1: The Ecstatic Music of Alice Coltrane Turiyasangitananda

Dar Shems (The House of the Sun)
Yacine Boulares, Vincent Segal and Nasheet Waits - Abu Sadiya
Sunrise in Chennai
Miklós Lukács, Larry Grenadier, Eric Harland - Cijmbalom Unlimited
Letter 8: Voices to Remember
Rahim Alhaj - Letters From Iraq: Oud and String Quartets

ubi
Ryuchi Sakamoto - async

Nobakitani
Kikagakyu Moyo - Stone Garden

Boufou Safou
Amadou & Mariam - Boufou Safou

Foulo
Orchestra Baobab - Tribute to Ndiouga Dieng

Fayinkounko
Orchestra Baobab - Tribute to Ndiouga Dieng

Nissodia (Joie de l'optimisme)
Idrissa Soumaoro et L'Eclipse de L'Ija - The Original Sound of Mali