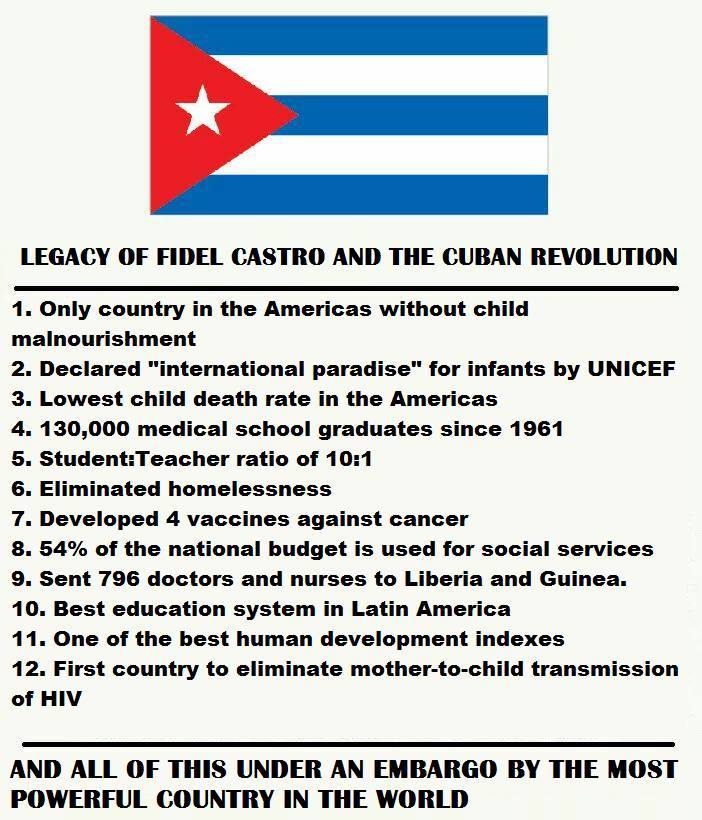 This Island Earth
Sunday November 27th, 2016 with Manmohan Panesar
Tribute to Commandante and Comrade Fidel with loads of fantastic music from Cuba
Rest In Power, Comrade Fidel. Welcome to THIS ISLAND EARTH on CKCU 93.1 FM (Sunday 1-4 pm EST) in the greater Ottawa area and/or at
ckcufm.com
anywhere around the globe. THIS ISLAND EARTH is CKCU's weekly three hour program featuring 'world' music. Today I will offer my humble hommage to Fidel, who passed away on Friday evening at the age of 90. To many, in particular to the poor and oppressed of the world, he is and will remain a hero. This afternoon most of the program consisting of music from Cuba. Expect to hear from Silvio Rodriguez, Arsenio Rodriguez, Carlos Puebla, Benny More, Mario Bauza, Chick O'Farrill, Cachao, Irakere, Maria Teresa Vera, Omara Portuondo, Septeto Nacional de Ignacio, Estrellos de Areito, Orchestra Aragon, Roberto Rodriguez, Los Terry, Celeste Mendoza, Ibrahim Ferrer, Compay Segundo, Septeto Variedades, Sierra Maestra, Eliades Ochoa, Gilles Peterson, Celina Gonzalez, an outstanding new release from Roberto Fonseca, and others. Listen in and enjoy! Legacy of Fidel Castro and the Cuban Revolution: 1. Only country in the Americas without child malnourishment 2. Declared "International paradise" for infants by UNICEF 3. Lowest child death rate in the Americas 4. 130 000 medical graduates since 1961 5. Student teacher ratio of 10:1 6. Eliminated homelessness 7. Developed 4 vaccines against cancer 8. 54% of national budget used for social services 9. Sent 796 doctors to Liberia and Guinea 10. Best educational system in Latin America 11. One of the best human development indexes in the world 12. First country in the world to eliminate mother-to-child transmission of HIV.
Y en eso llego Fidel
Carlos Puebla - Carlos Puebla y sus Tradicionales
Afro Mambo
Roberto Fonseca - ABUC

Cubano Chant
Roberto Fonseca - ABUC

Tumbao de la Unidad
Roberto Fonseca - ABUC

Contradanza Del Espíritu
Roberto Fonseca - ABUC

Descarga Cachao
Cachao - Master Sessions
Pongase para las cosas
Estrellos de Areito - Los Heroes
Llover sobre mojado
Silvio Rodriguez - Triptico
Yo pisare las calles nuevamente
Pablo Milanes - Musica y revolucion
Arolla Cubano
Maria Teresa Vera - I am Time
Papa Aggun
Celeste Mendoza y Los Papines - I am Time
Agita
Gilles Peterson's Havana Culture Band feat. Roberto Fonseca, El Micha, Osdalgia - Gilles Peterson Presents Havana Culture
Taka Taka Tá
Irakere - Grupo Irakere
El Coco
Irakere - El Coco
Juana Mil Ciento
Irakere - Irakere
Tierra Santa
Roberto Fonseca - ABUC

Sagrado Corazón
Roberto Fonseca - ABUC

Mambo
Mario Bauza - I am Time
Descarga Numero Dos
Chico O'Farrill - I am Time
Tierra Santa Santiago De Cuba
Roberto Fonseca - ABUC

Habanera
Roberto Fonseca - ABUC

Soul Guardians
Roberto Fonseca - ABUC

Asere Monina Bonco
Roberto Fonseca - ABUC

Jaguey
Arsenio Rodriguez y su Conjunto - Como se goza en el barrio
Arpeggio por Arsenio
Arsenio Rodriguez y su Conjunto - Como se goza en el barrio
All along the Watchtower
Eliades Ochoa - From Another World: A Tribute to Bob Dylan
La calabaza
Septeto Variedades - Que Suerte!
Rumberos de Ayer
Beny More - The Voice and Work of...
Pare cochero
Orquestra Aragon - Cuba En Vivo
Te doy la vida
Compay Segundo - Las flores de la visa
Santa Barbara
Celina Gonzalez - Que Viva Chango
Junto a mi fusil mi son
Omara Portuondo - Musica y revolucion
Radio Reloj
Vocal Sampling - Una forma mas
La bola
Manolin El Medico de la Salsa - I am Time
Guahira
Roberto Rodriguez - El Dancon de Moises