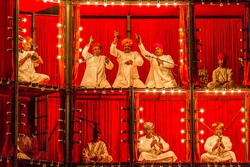 This Island Earth
Sunday May 15th, 2016 with David Dalle
The Manganiyar Seduction; Lubomyr Melnyk; Thomas Mapfumo; Misia; Chucho Valdes; Kaoru Watanabe; Kandia Kouyate and more
Welcome to my guest spot on This Island Earth. Always very self-indulgent for me as I joyfully build the show from many many favourites! Starting today with an incredible live recording from Chucho Valdes with wonderfully rich rythmic piano chords you could sink your teeth into, followed by one of the most stunning voices from Portugal. We will also hear some Roma brass, music from Mali, Morocco, Egypt, Zimbabwe, Iran, Japan and more! The centrepiece of the show will be a unique live recording, "The Manganiyar Seduction", an hour long performance based on a poem from Sufi Bulleh Shah with 14 singers and 25 instrumentalists from Rajasthan, India. This performance piece is completely unique in having so many traditional musicians playing together. A wonderful, passionate feast for the ears and the soul! Listen to my regular show Thursday's 2-4pm, over 2 years of programming available on-demand!
http://cod.ckcufm.com/programs/105/info.html
Lorena's Tango
Chucho Valdes - Tribute to Irakere - Jazz Village
Da Vida Quero Os Sinais
Misia - Garras Dos Sentidos - Detour
Ndangariro
Thomas Mapfumo - Lion Songs - Lion Songs
Na Kankou
Diely Moussa Kouyate feat. Salif Keita - Le Temps - Universal France
Dakolo
Kandia Kouyate - Renascence - Sterns Africa
Timtar
Bombino - Azel - Partisan Records/Knitting Factory Records

Tahidoust 1
Abdelouahed Hajjaoui - Anthologie de la musique marocaine vol. 10 - Chants du Moyen Atlas - Royaume du Maroc
Brani Britou
Hasna el Becharia - Djazair Johara - Label Bleu/Indigo
Amarmoussaoui
Hassan Hakmoun - Unity - Healing Records
Olodum Ventania
Olodum - Pela Vida - Cheiro
Arrastao Da Alegria
Monobloco - Arrastao Da Alegria - Monobloco
Alfat In Bin Un Bin
Roysten Abel and Manganiyar musicians - The Manganiyar Seduction - Amarrass Records
Together Alone
Kaoru Watanabe - Neo - Independent

Nightrail From The Sun
Lubomyr Melnyk/Lubomyr Melnyk, Peter Broderick, Martyn Heyne - Corollaries - Erased Tapes
Sevillanas Trianeras
Bernabe de Moron - Flamenco Espana - Rykodisc
Qasi maqasi
Ensemble Al-Tanburah - La Simsimiyya de Port-Said - Institut du Monde Arabe
Duj Duj
Fanfare Ciocarlia with Mitsou & Florentina Sandu - Queens and Kings - Asphalt Tango