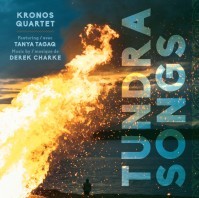 This Island Earth
Sunday June 7th, 2015 with PeterB
From JazzFest previews, to creation stories, to big fusion beats… LOADS of giant tracks, and loooong sets.
This week's This Island Earth adventure wanders from Ottawa JazzFest, to Tundra Songs clash of thoat singing with chamber music, to BIG fusions, to whatever. LOTS of looong sets and looong tracks today. How we like it! Fasten your seatbelts. And, please hit us up on the Interactive Thingy (over there ==>). We'd love to hear from you!!
Slither (Theme)
Anoushka Shankar and Karsh Kale - Breathing Under Water - Manhattan Records (2007 )
Hints on the soon-come Ottawa JazzFest 2015. Be there or be square!!! Some juicy long tracks.
African Dawn
Abdullah Ibrahim - South Africa - Enja (1986)
The Curtain (live)
Snarky Puppy & Metropole Orkest - Sylva - Impulse! (2015)

Tensta - Malmö
Nils Berg Cinemascope - Vocals - HOOB Records (2013)
The Sun Roars Into View
Colin Stetson and Sarah Neufeld - Never were the way she was - Constellation Records (2015)


Kikuchiyo to Mohshimasu
Pink Martini - Hang On Little Tomato - Naïve (2004)
Now, featuring the TOTALLY ASTOUNDING Kronos Quartet / Tanya Tagaq / Derek Charke recording "Tundra Songs". We'll play a good chunk of it. And likely the rest on future shows. Definitely not your Elders throat singing, or chamber music!

First, an Inuit / Greenlandic creation story.

Then, the title Tundra Songs piece itself. Tundra Songs is essentially a suite in 5 movements: I Ice, II Water, III Sedna's Song, IV Lament of the Dogs, V The Trickster Tulugaq.

Tanya Tagaq will be at Ottawa Jazz Fest on June 30. If you have not seen her live before, do not miss it! And, try to get close enough to hear her voice over the mic/speakers and all that. Just WOW!
Sassuma Arnaa: The Woman Down There [Greenlandic Inuit creation story]
Laakuluk Williamson Bathory (Storyteller) / Kronos Quartet / Tanya Tagaq / Derek Charke - Tundra Songs [bonus track] - Canadian Music Centre (2015)


Tundra Songs (Parts I-V)
Kronos Quartet / Tanya Tagaq / Derek Charke - Tundra Songs - Canadian Music Centre (2015)


NOW, JUST ONE GIANT SET OF WORLD FUSION JAZZ-I-NESS, BIG SOUNDS, AND HUGE TRACKS!
A Mystical Morning
Debashish Bhattacharya & John McLaughlin - The Rough Guide To Psychedelic India - World Music Network (2015)

Prashanti
Ravi Shankar and Philip Glass - Passages - BMG (1990)
You Can't Tell
Warren Cuccurullo and Ustad Sultan Khan - The Master - Six Degrees (2014)
Dance Of The Cosmo-Aliens (Live In Milan, 1978)
Sun Ra - Marshall Allen presents Sun Ra And His Arkestra: In The Orbit Of Ra - Strut (2014)
Ve-Samakhto Dub (traditional)
Hasidic New Wave - Psycho-Semitic - Knitting Factory (1998)
Warhole
Erik Truffaz & Murcof - Being Human Being - Mundo Recordings (2014)
Meeting of the Spirits
The Mahavishnu Orchestra with John McLaughlin - The Inner Mounting Flame - Col (1971)
Exit stage left...
Somewhere in Space / Angels and Demons at Play
Rake-Star - Some Ra - Spool (2004)